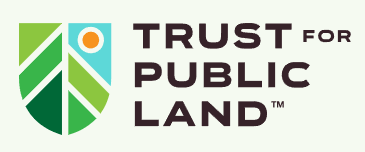 Trust for Public Land
2022 – $20,000 Green Schoolyards Oakland
2021 – $20,000 India Basin
2018 – $20,000 India Basin Waterfront Park
2017 – $20,000 Parks for People Project: India Basin, San Francisco
2017 – $20,000 Innes Avenue Project
2016 – $20,000 Innes Avenue Project
2015 – $20,000 Innes Avenue Project

The Trust for Public Land (TPL) is dedicated to helping local communities with their conservation needs by raising funds, conducting research, designing and renovating parks, playgrounds, trails and gardens, as well as acquiring and protecting land. With over 30 offices across the nation, TPL works to provide access to nature for everyone and has completed over 5,000 conservation projects nationwide.
Locally, TPL is developing a plan to transform the 900 Innes Avenue property from an industrial brownfield into a vibrant community park featuring climate-smart infrastructure. Redeveloping the property is an important step in creating a more resilient shoreline that is adapted for sea level rise. 900 Innes will create green space and alternative transportation options for the under-served residents of Bayview/Hunters Point.