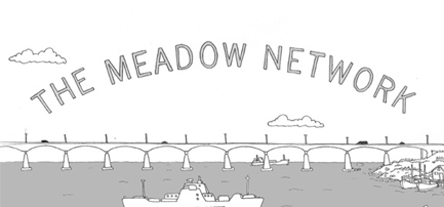 Ted Purves and Suzanne Cockrell
2009 – $1,750 The Meadow Network Newspaper
The Meadow Network project, which was started in 2009, is rooted in a broad series of interviews with city residents from diverse backgrounds. What traditions of growing, preserving, festival and bartering do they hold on to? How would they see these as manifesting in the cities that they reside in and their everyday life? What would future urban green space come to resemble? The interviews were conducted at city farms, open markets, gardening stores and public parks.
The interviews accompanied by photographs, drawings and maps have been compiled into free newspapers. Three issues have been completed to date, and two more issues are currently in planning.
PDF versions of the newspapers can be downloaded at
http://fieldfaring.wordpress.com/the-meadow-network/
Susanne Cockrell and Ted Purves work collaboratively under the rubric of fieldfaring to create social art projects that investigate the overlay of urban and rural systems upon the lives of specific communities. They ask questions about the nature of people and place as seen through social economy, history and local ecology. The collaboration began with a two and a half year public project (2004-2007), Temescal Amity Works, which facilitated and documented the exchange of backyard produce, conversation, and collective biography within the Temescal Neighborhood of Oakland, CA.