SPUR's We Are the Bay exhibition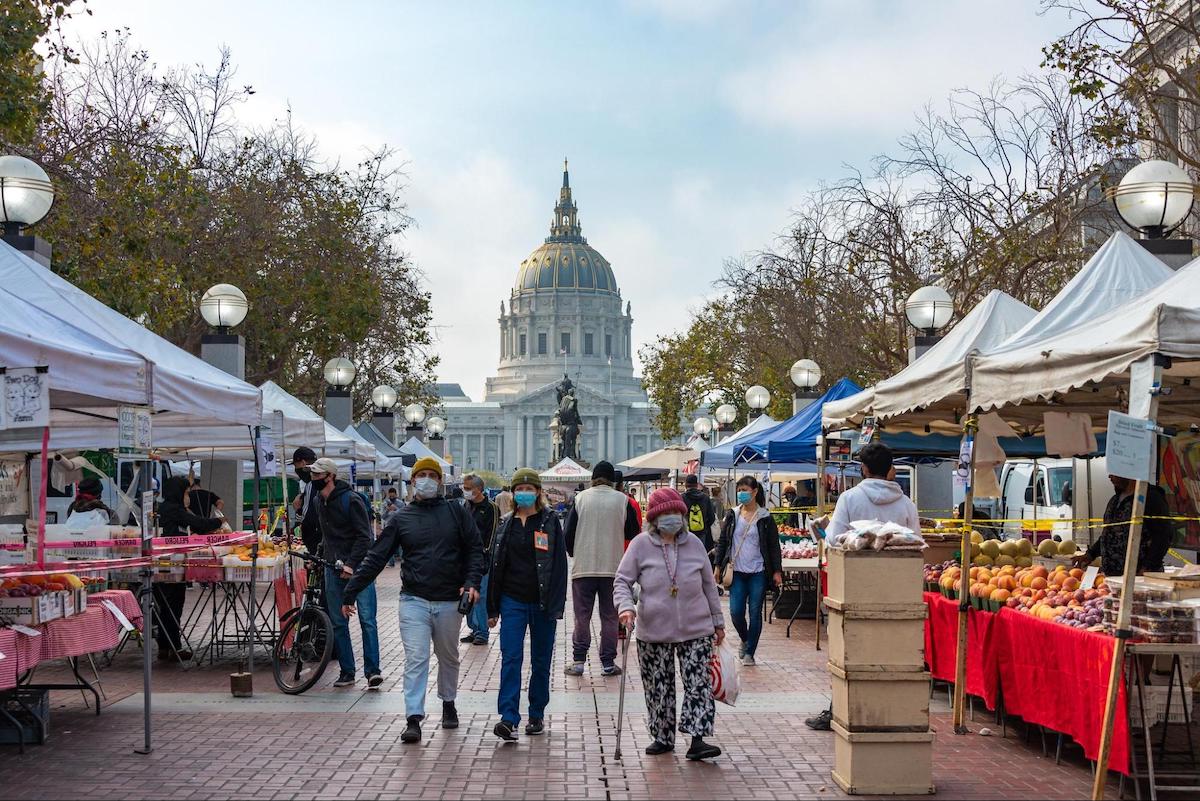 Farmer's market in San Francisco; photo credit Sergio Ruiz
Rising tides threatening to flood; photo credit Sergio Ruiz
SPUR's How We Move exhibition
A transit + design workshop held at SPUR's Urban Center

SPUR (formerly San Francisco Planning + Urban Research Association)
2023 – $20,000 Transit Oriented Communities
2021 – $15,000 Transit Priority Program
2019 – $10,000 Operational Landscape Units Project
2018 – $20,000 Regional Plan
2017 – $10,000 Operational Landscape Units Project (with SFEI)
2017 – $10,000 Framework for Sea-Level Rise Adaptation
2016 – $15,000 Framework for Sea-Level Rise Adaptation
2014 – $15,000 Fossil Fuel Reduction Report
2010 – 2014 $38,000 Food Systems and Urban Agriculture Program
2007 – $5,000 General Support
Work
Through research, education and advocacy, SPUR works to create an equitable, sustainable and prosperous region. SPUR practices urban policy, developing and advocating for ideas and reforms to bring about systems change. The decisions that shape housing, transportation, land use, economics, food access, sustainability and resilience have significant impacts on people's lives. SPUR also focuses on governance because it's how communities organize themselves to achieve collective goals and because SPUR believes in the power of government as a force for good. SPUR works across the nine counties of the Bay Area because the structural systems that shape people's lives— the housing market, the transportation network, the economy — are regional. SPUR does deep work in San Francisco, San José and Oakland because policies set in the region's three biggest cities have widespread impact on most Bay Area residents and because local context is critical for effective policy. SPUR believes that community and individual well-being are healthiest when a society achieves equity, sustainability and prosperity. Equity because systemic racism continues to create unjust and unacceptable outcomes for many members of our community. Sustainability because human well-being depends on a healthy and thriving natural environment. And prosperity because meeting individual and collective needs requires resources. SPUR conducts its work through research, education and advocacy because these tools have the power to change minds and shape outcomes. The organization believes that profound systems change requires addressing beliefs, relationships and policies, and SPUR works at all three of these levels. SPUR grounds its work in a spirit of inquiry and a big-tent perspective that engages partners and communities across the region.
Goals
SPUR has many key goals related to each of the organization's major policy areas, including:
Planning: Add new jobs and housing where they will support equity and sustainability, and make neighborhoods safe and welcoming to everyone.
Housing: Make housing affordable for everyone.
Transportation: Make it fast, easy and inexpensive to get around without driving alone.
Sustainability + Resilience: Eliminate carbon emissions and make communities resilient to climate change.
Economic Justice: Enable all people to participate in the region's thriving economy and attain economic security.
Good Government: Support a high-functioning public sector that serves the collective good.
Food + Agriculture: Create healthy, just and sustainable food systems, and put an end to food insecurity.
Achievements
SPUR has accomplished many things over the course of its 100+ year history. The organization shaped some of the most important planning and urban policy issues in the region, including planning for the BART system, establishing the Golden Gate National Recreation Area and the Bay Conservation and Development Commission, proposing San Francisco's Affordable Housing Trust Fund and more. Recent achievements of the organization in 2020, include:
Crafting more than 70 policy recommendations on housing, transportation, planning, sustainability and resilience and more
Welcoming more than 13,000 individuals to public forums covering pressing issues in the Bay Area, such as the housing affordability crisis, economic inequality, how COVID-19 affects small businesses and more
Co-sponsoring three pieces of legislation passed by California lawmakers, including SB288, which expands CEQA exemptions to speed up the delivery of sustainable transportation projects in the state
Hosting the organization's first Ideas + Action symposium, which brought together public space experts and more than 1,500 attendees from across North America
Released numerous reports and white papers, on topics such as the future of transportation, transit project delivery, climate hazards and modeling future places, which envisions a Bay Area that can welcome everyone
Hosting a forum with Mayors Breed, Liccardo and Schaaf of San Francisco, San José and Oakland to learn how cities of the Bay Area can collectively work toward a more equitable, sustainable and prosperous region
Leading convening efforts for the new California Home Builders Alliance, an informal advocacy coalition focusing on state legislation and regulatory reforms to build more housing
Impact Report attached; our most recent annual report was online only–it is available here: https://www.spur.org/about/annual-reports/2020