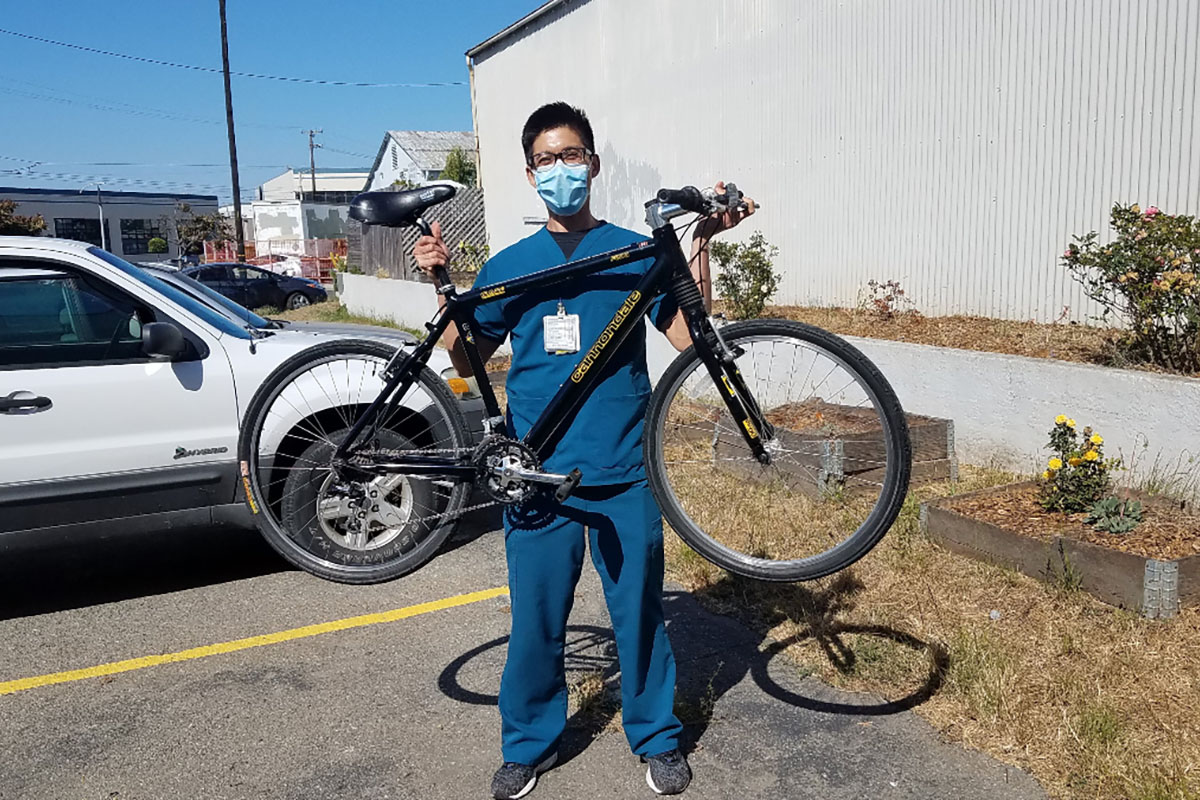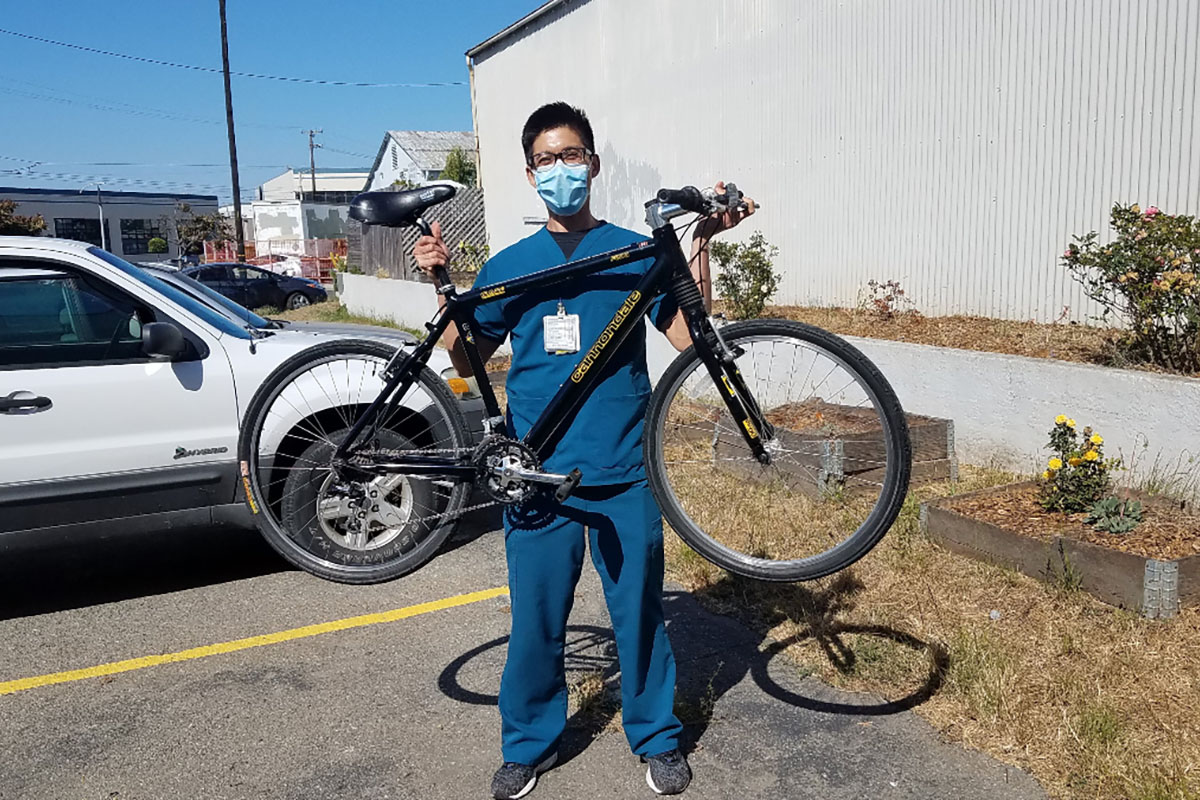 A recipient of the SF Bicycle Coalition's Bike Match program.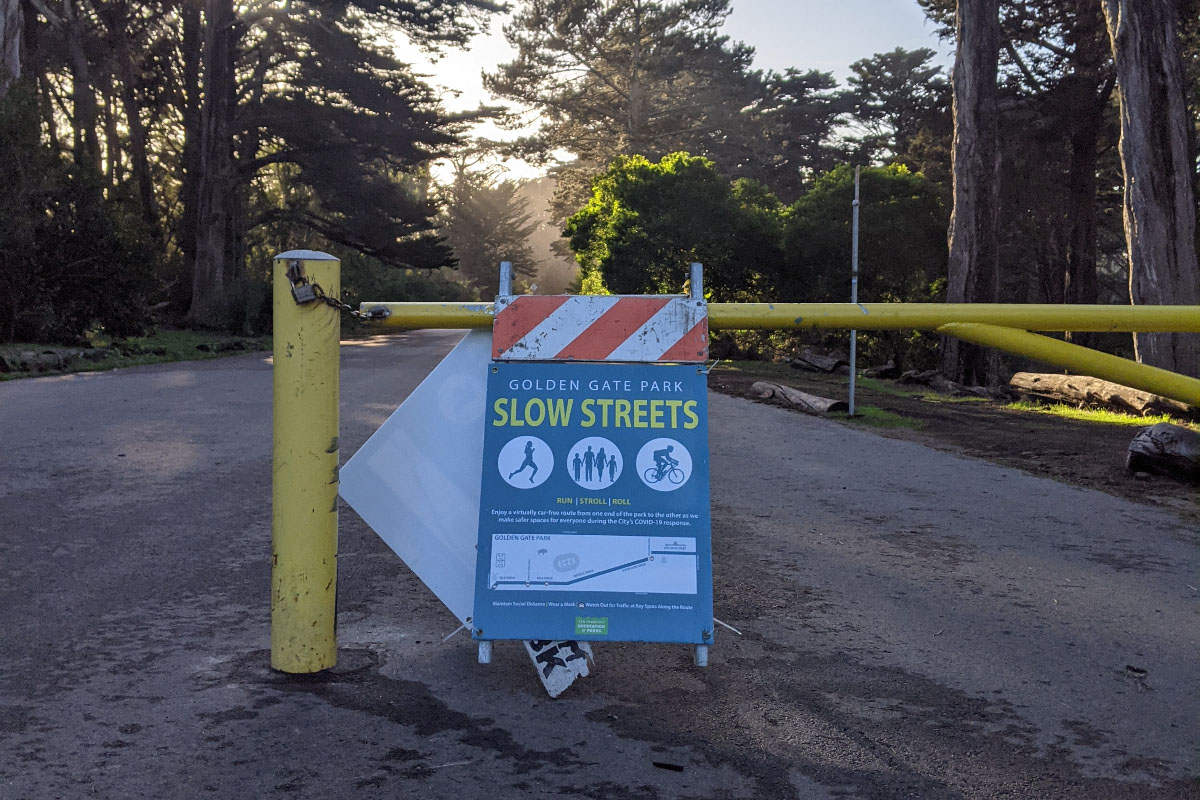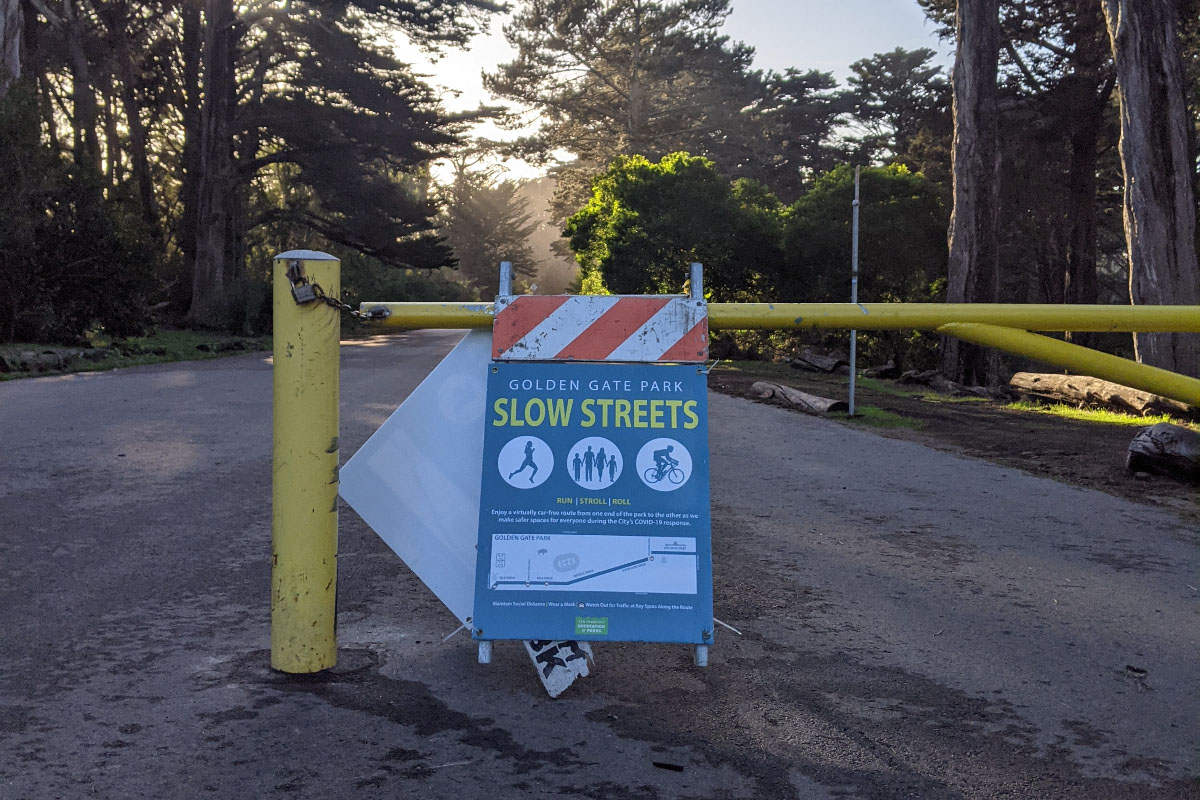 Car-free space in Golden Gate Park.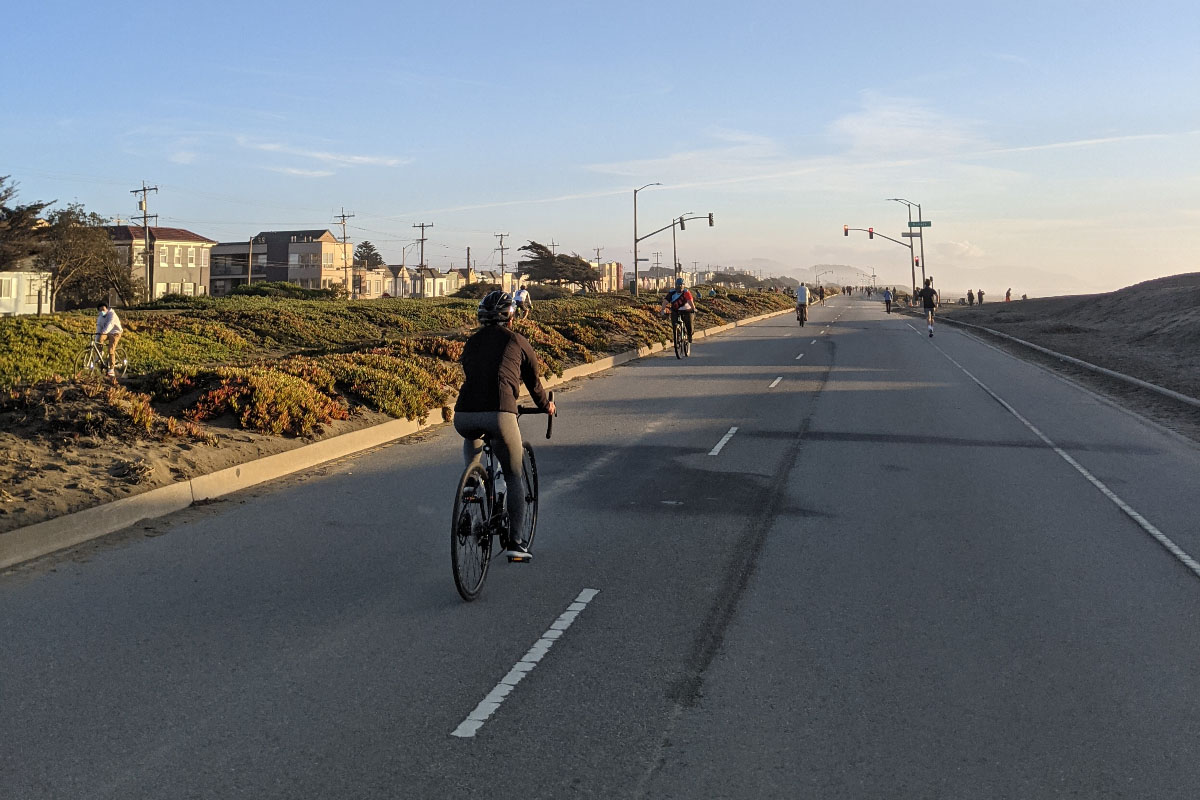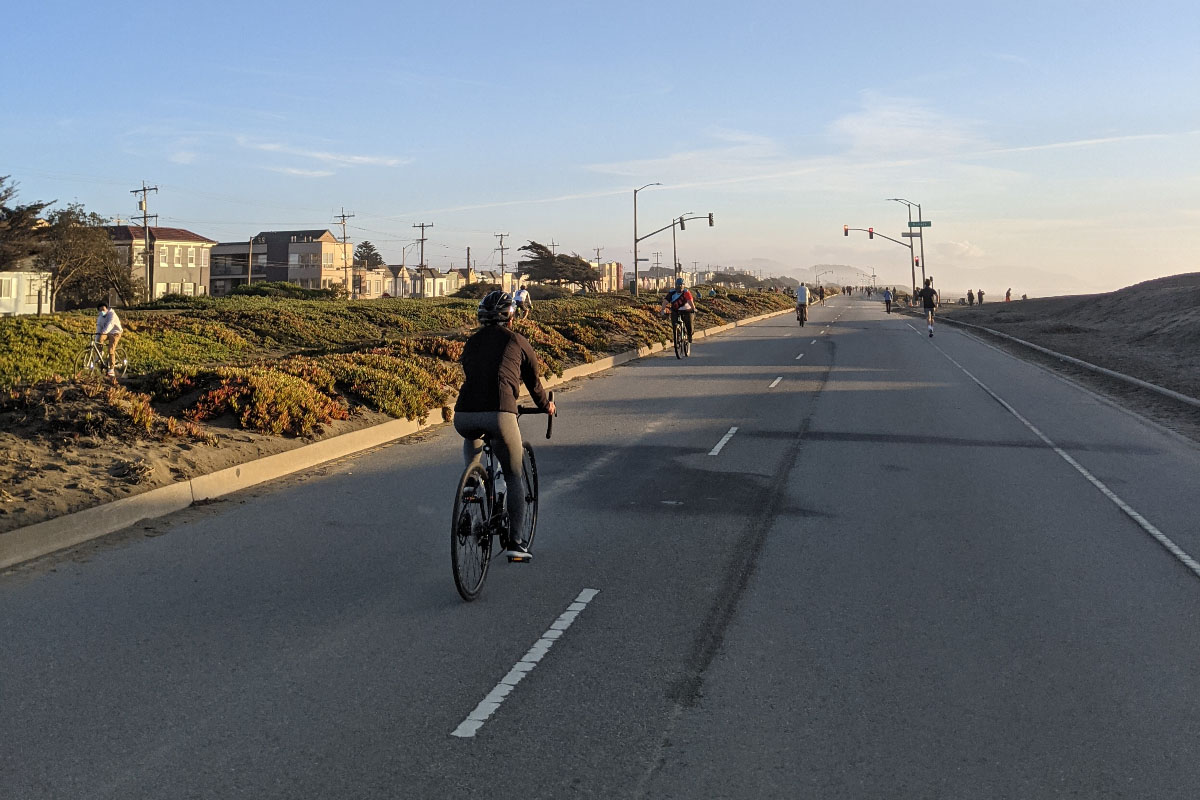 People biking and enjoying a car-free Great Highway during the pandemic.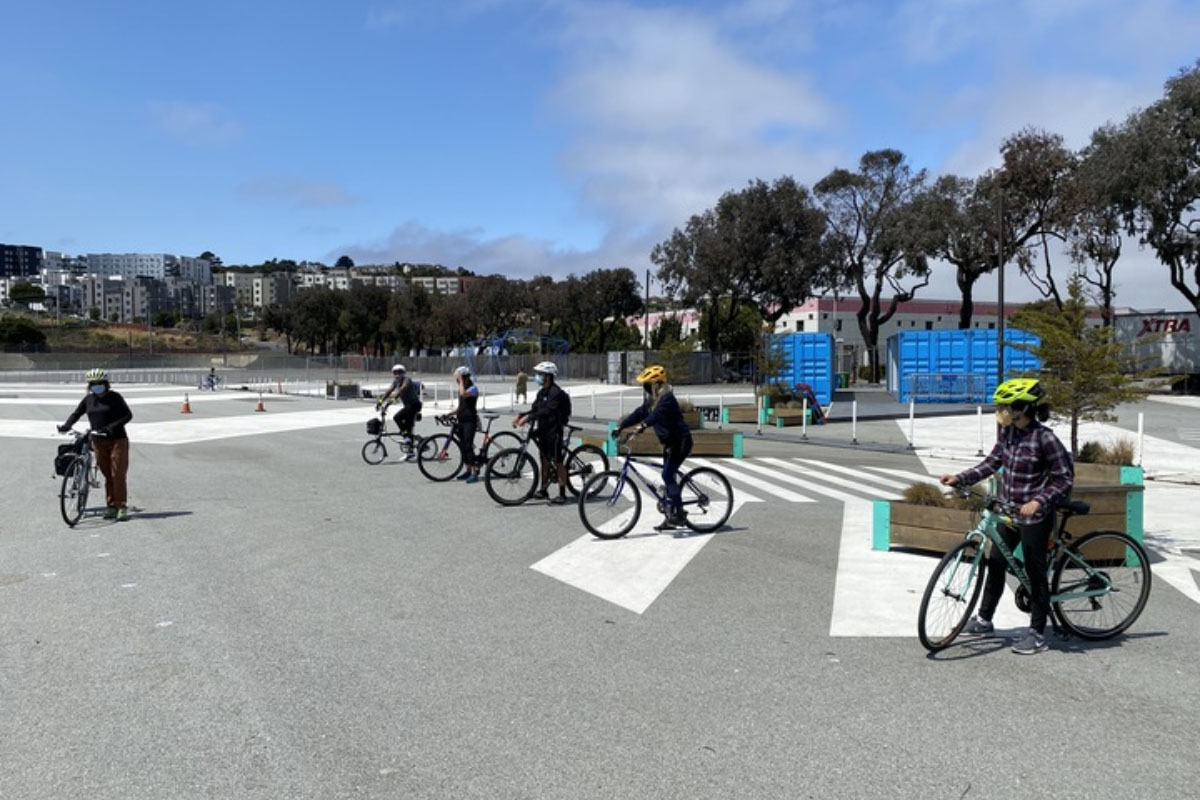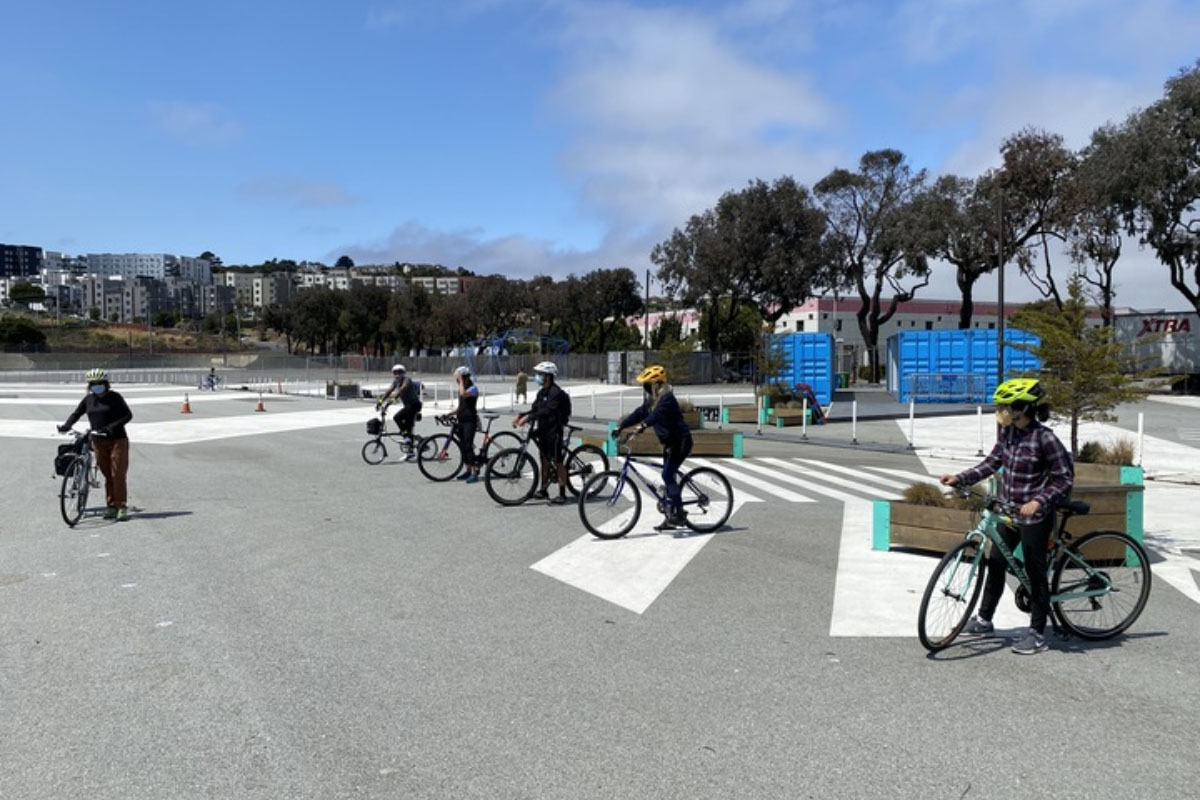 Students during a socially-distant bike education class.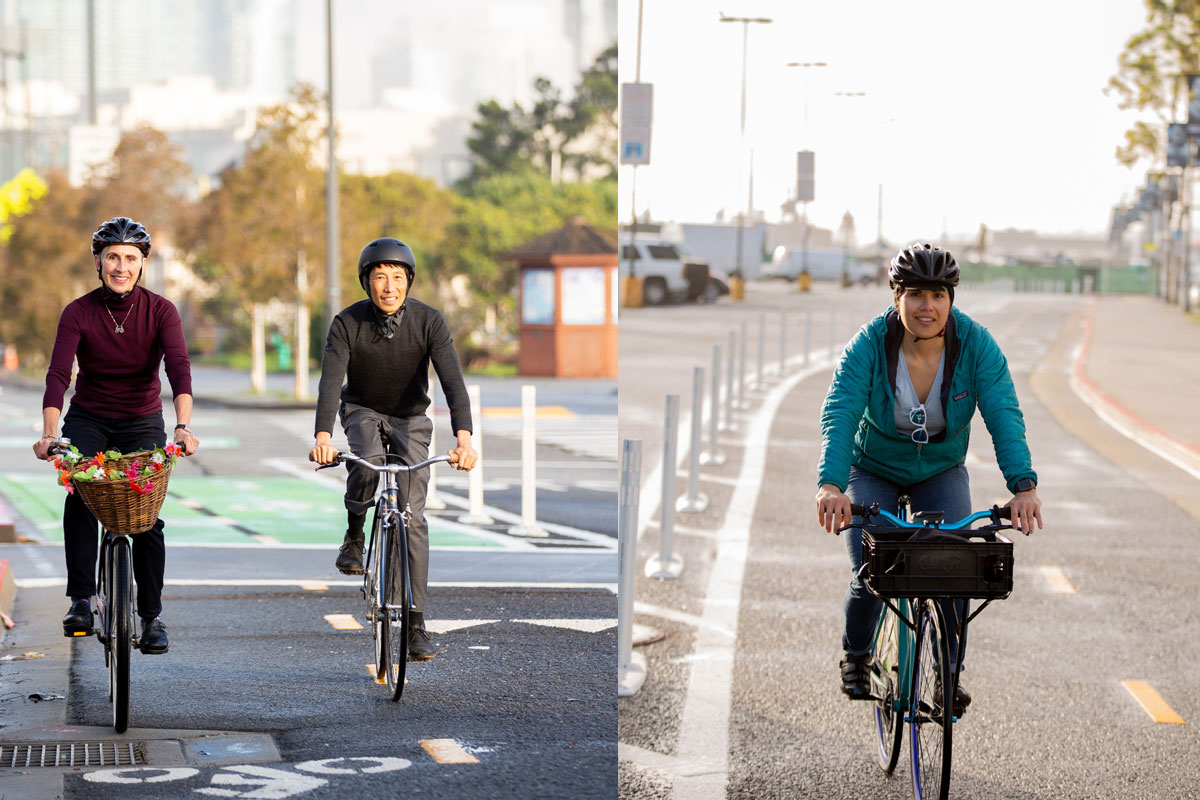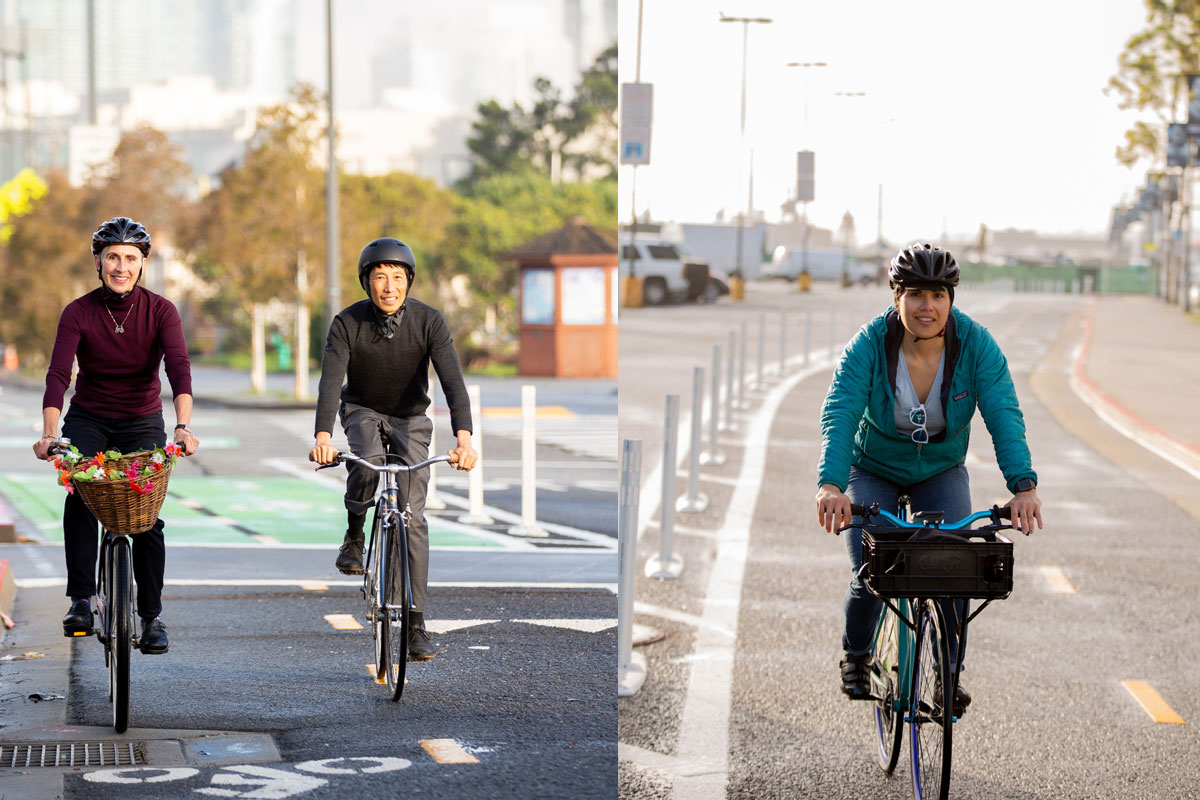 Bay area residents enjoying biking on San Francisco streets.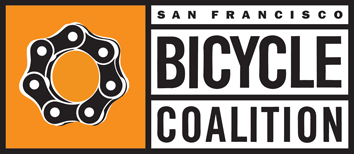 San Francisco Bicycle Coalition Education Fund
2019 – $10,000 General Support
2017 – $10,000 Transportation Equity Network
2013 – $5,000 "Kit of Parts" Manual
2012 – $25,000 2nd Street Project
2011 – $10,000 Family Biking Guide and Programs
2010 – $10,000 Connecting the City
2009 – $5,000 Great Streets Program
The San Francisco Bicycle Coalition is one of the oldest bicycle advocacy organizations in the country and was founded in 1971 by a group of activists representing a coalition of environmental and neighborhood groups. The organization quickly evolved into a powerful alliance of individuals working for a more bicycle-friendly city. The SF Bicycle Coalition has been dominated by a grassroots volunteer ethic ever since, growing into one of the strongest bicycle advocacy organizations in the country. For over 45 years, the San Francisco Bicycle Coalition has been transforming San Francisco streets and neighborhoods by promoting the bicycle for everyday transportation. Through their day-to-day advocacy, education and working partnerships with city and community agencies, the organization continues to create safe, just, and livable streets for all San Franciscans.
The San Francisco Bicycle Coalition embodies their core principles: transportation justice, sustainability, people power, and joy in all areas of their work. In their 2018-2022 strategic plan, the SF Francisco Bicycle Coalition incorporated these values to construct and execute a plan that prioritizes quality bicycle infrastructure and increases safety and invites more people to bike. In an effort to adapt to a world that's changing the way it gets around, the San Francisco Bicycle Coalition aims to transform the streets of San Francisco through:
The demand of high-quality infrastructure and visionary improvements to connect the city;
Building public support and political power to win affordable and sustainable transportation for all San Franciscans;
The growth, engagement, and empowerment of membership in order to strengthen the organization and deepen community support for bicycling and;
Introducing San Franciscans of all ages, identities, and backgrounds to the joy of bicycling and encouraging more San Franciscans to bicycle more often.
To fulfill these objectives, the SF Bicycle Coalition employs both their programmatic and advocacy related work to promote, educate, and reimagine transportation in San Francisco. Nationwide, transportation remains to be the second biggest expense in a household's budget, and families in San Francisco feel that cost acutely. The San Francisco Bicycle Coalition strives to provide affordable transit options to those in need and promote the bicycle for everyday transportation.
Through the Bike It Forward program, the SF Bicycle Coalition works alongside community groups around the City to organize events structured to provide bikes to neighborhood residents. The organization reclaims unclaimed and abandoned bikes from the SFMTA, BART, and other agencies that are repaired with the help of volunteers. Alternatively, the Bike Match program connects people who have bikes they no longer use with those who need a bike. As a cooperative, community-driven collaborative, neighborhood residents who have expressed a need through partner organizations, complete a bicycle education course, get properly fitted for their new bike, and leave with a new, affordable, fun and healthy way to get around.
The San Francisco Bicycle Coalition is considered the leading resource for street safety and education in the city. The organization structures its curriculum to cater toward people who bike and those who share the streets with people who bike. Whether a course is dedicated to youth and family biking, navigating safely through San Francisco, learning how to share the streets with all forms of transit, riding at night and in all weather conditions, or just getting acquainted with the basics, the San Francisco Bicycle Coalition is proud to offer free online resources and classes that accommodate all age ranges, levels of comfortability, and experience.
Through their advocacy work, the SF Bicycle Coalition continues to push for more car-free spaces, slow streets, and safe, high-quality biking infrastructure. To keep expanding the number of Slow Streets, the San Francisco Bicycle Coalition continues to push the City to explore more permanent treatments and prioritize the densest San Francisco neighborhoods, including the Tenderloin and SoMa. In 2020, advocacy for better bike infrastructure pushed forward and construction continued on Lefty O'Doul Bridge, 7th Street from Folsom to Townsend, Howard Street from 3rd to Embarcadero, new protected bike lane segments on the Embarcadero, and improvements to 20th Avenue in the Outer Sunset.
During the pandemic, the organization has seen six times more people biking in Golden Gate Park. Now, after decades of advocacy, San Franciscans can enjoy a fully car-free route from the Panhandle to Ocean Beach; take a car-free ride through the Panhandle, to the eastern segment of JFK Drive, through Overlook and Middle Drive, and onto the car-free western segment of MLK Drive. While more people are looking to spend more time outdoors amidst the lifting of shelter-in-place orders, the Slow Streets program has also expanded car-free space across San Francisco to help people stay healthy and safe. Thanks to this program, people can maintain social distance as they walk, bike, and roll on over 30 corridors that are closed to vehicle through traffic.
The Seed Fund have been supporters of the San Francisco Bicycle Coalition for over a decade and have partnered with the organization to fund certain campaigns centered around transportation justice, sustainability, people power, and joy. Some of these projects include:
In 2012, the Seed Fund granted the SF Bicycle Coalition $5,000 toward the 2nd Street redesign in San Francisco's South of Market neighborhood to push for and prioritize biking and walking infrastructure.
In 2013, $5,000 was granted to the SF Bicycle Coalition's "Kit of Parts" manual that provided city planners with information on how to quickly transform city streets that included separated bikeways, greening initiatives, and sidewalk expansions. The toolkit was intended to be an open and accessible resource that provided inspirational, practical, and feasible designs not only for San Francisco officials but other cities looking to create more sustainable solutions on both a national and global scale.
In 2017, The Seed Fund funded the SF Bicycle Coalition's Transportation Equity Network proposal that identified the need to come together with other local community partners to establish a collective that ensured an equitable distribution of bikes. The Community Bike Build program (now formally known as the Bike It Forward program) needed to extend beyond simply providing low income residents with a bike, lights, lock and helmet. The San Francisco Bicycle Coalition — along with its partners — determined that additional resources like bicycle safety education, affordable maintenance and culturally competent infrastructure needed to be implemented.
In 2019, The Seed Fund funded the SF Bicycle Coalition's Embarcadero campaign which helped hire staff and additional resources to ensure that the vision of a two-way bike lane along the waterfront side of the Embarcadero project advanced toward approvals. The $10,000 grant toward this project gave the SF Bicycle Coalition the flexibility to work with elected officials and City agencies to identify and allocate funding for construction. Additionally, these funds helped ensure that the necessary time and resources to make this project a national and international model for linking climate adaptation and mitigation efforts through the best practices of green infrastructure were met.