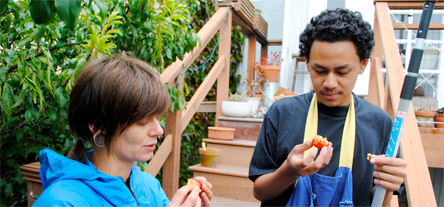 Produce to the People
2011 – $3,000 General Support
Produce to the People (PttP) is a grassroots, community food organization in San Francisco, founded in June 2009. PttP aims to localize the food system by utilizing and celebrating the unused resources in San Francisco, including fruit trees, vacant lots, and people power.
PttP's work is rooted in outreach to under served communities, providing healthy, organic, local food for people who may not always have access to it, supporting garden projects in communities that may not have the funds to create or sustain them on their own, and providing educational jobs to youth with barriers to employment. They work to link these elements together; the growth, harvest, and dispersal of food, in conjunction with the collaboration of other organizations, neighbors, patrons of food programs, and young people, creates a full circle that links people coming from diverse life experiences and unites them over a common need for healthy food and community based care for one another.