A summer intern planting sea grass in Sunset Cove, Jamaica Bay. Photo credit_ Natural Areas Conservancy
Our Citywide Trails Team working in Forest Park, Queens. Photo credit_ Natural Areas Conservancy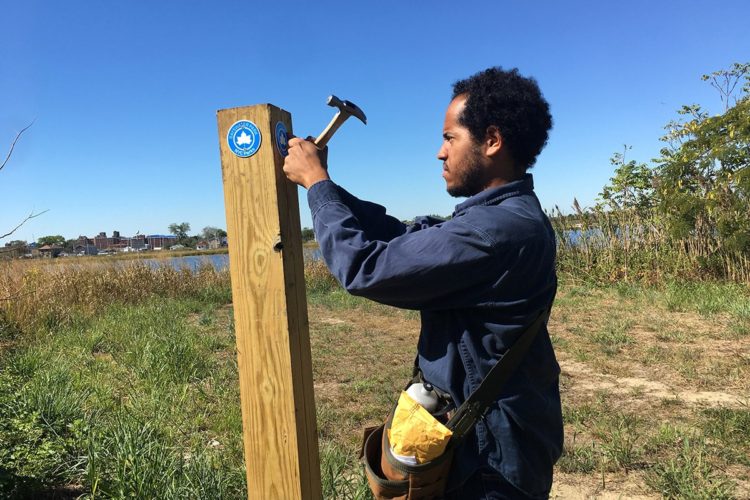 A staff member from our Citywide Trails Team blazing a trail in Bayswater Park, Queens. Photo credit_ Natural Areas Conservancy
2020 CUNY summer interns learning plant identification skills outside in Jamaica Bay Park. Photo credit_ Natural Areas Conservancy
Kayakers touring Jamaica Bay with the Natural Areas Conservancy and the Jamaica-Bay Rockaway Parks Conservancy. Photo credit_ Natural Areas Conservancy
Natural Areas Conservancy's Executive Director, Sarah Charlop-Powers, speaking at our 2019 Forests in Cities National Workshop with special guests. Photo credit_ Natural Areas Conservancy
Volunteers in Inwood Hill Park in Manhattan. Photo credit_ Natural Areas Conservancy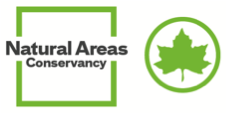 Natural Areas Conservancy (NAC)
2022 – $20,000 Climate Lab
2021 – $15,000 General Support
Started in 2012, the Natural Areas Conservancy (NAC) is a non-profit organization devoted to restoring and conserving New York City's 20,000 acres of forests and coastal areas. The NAC is the first park conservancy dedicated exclusively to New York City's natural areas, which comprise one third of the city's park system. The NAC works in more than 50 parks across the five boroughs and takes a science-based approach to conserving the city's nature, improving coastal resilience, and ensuring healthy forests. They believe that natural areas are vital to sustaining air quality, improving public health, providing New Yorkers with access to nature, and strengthening our communities.
Through their internship program, the NAC mentors a diverse group of STEM majors from the City University of New York to become the environmental leaders of tomorrow. Since 2016, they have trained 70 young adults through their paid summer internship program. NAC staff guide student research and train interns in botany and ecological data collection and analysis. The data collected and analyzed by the interns are used by the NAC and the NYC Dept. of Parks and Recreation to manage forests and wetlands across the city. In 2020, the NAC expanded the program to be year round. In 2021, the NAC expanded the internship program to include shoreline monitoring projects in NYC wetlands and trail improvement projects citywide. There is also a goal to expand the program to include high school students in 2022.
Since 2019, the NAC has convened Forests in Cities (FIC), a national network of colleagues from 12 U.S. cities who are working to restore and manage forested natural areas. The NAC has facilitated the publication of over 25 case studies and the first national report on urban forested natural areas, including responses from over 100 organizations across the country. Over the next three years the NAC has committed to advancing the following goals: 1) Nurture and grow a national network of experts focused on the care of forests in cities; 2) Advance urban forest science and practice, including documentation of successful practices, and the creation of new knowledge to advance this field; and 3) Advocate for increased resources and support.
The NAC is focused on building a better understanding of the role that natural areas play as a part of the solution to climate change. Using extensive data, they have established an approach to make New York City's forests more adaptable to future climate related threats and have quantified their role in storing and sequestering carbon. In their research, the NAC has calculated that forested natural areas account for 69% of the carbon stored in New York City's trees, despite being only 25% of the tree canopy. These calculations have also revealed that healthy forests store twice as much carbon as degraded forests. The NAC is using this information to activate partners and policymakers and advance innovative management strategies needed to ensure forests survive under hotter conditions and more severe and frequent storms.
To address the needs of our vast and complex park system, the NAC created a citywide trails team in 2017 to conduct trail improvement projects on over 300 miles of official and unofficial trails, and to train non-profit partners and individual volunteers in trail management techniques. Since 2017, the team has formalized over 136 miles of trails in 19 parks, and has trained 48 advanced volunteers to adopt 60 miles of trails. To increase this effort to the level needed for New York City and to bring more funding and volunteer resources to the city's trail system, the NAC developed a Strategic Trails Plan which launched in June 2021. The goal is to formalize the entire 300 mile trail system by the end of 2023, and to have every mile of official trail adopted by an advanced volunteer.
Through their robust series of public programs in natural areas, the NAC has engaged over 7,500 individuals in tours, lectures, and volunteer events. In 2020, they responded to COVID-19 by making all of their events and programming virtual. The NAC's programs focused on topics — such as top nature trails to explore and plant identification lessons — that would help New Yorkers get outside and safely spend time in local nature. With this new programming, they experienced a 150% increase in overall attendance and engagement. Looking ahead, the NAC is planning flexible programming that can be adapted to changing safety conditions during the pandemic. NAC's virtual events will include interactive content to allow participants to experience New York City's natural areas from the comfort of their homes.