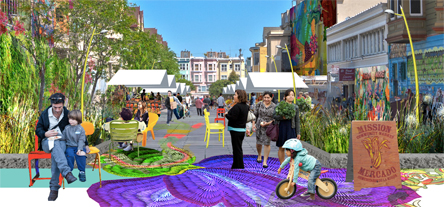 Mission Community Market
2011 – $10,000 Mercado Plaza
Rebar and the Mission Community Market (MCM) have formed a partnership to create a new car-free plaza and public space on Bartlett Street in the Mission. Building on the place-making efforts of the MCM, the new plaza will provide a beautiful, safe and much needed public space for activities that support family health, promote small businesses and bring diverse communities together.Building on the MCM's place-making activities, the Mercado Plaza will bring diverse communities together through the civic design process, entrepreneurial opportunity and public space design. The goal for the car-free plaza is to create a true public marketplace and flexible urban space. It will accommodate large gatherings, like MCM, as well as smaller neighborhood activities and play. The concept is a programmable plaza surface with temporary infrastructure such as market stall supports, shading, seating and a stage. Flexible street furniture, vendor stalls and utility hookups can reduce the barriers for diverse entrepreneurs to enter the marketplace as well as an upgrade to the ecological infrastructure of the street by implementing stormwater best management practices – permeable pavers, rain gardens and potentially subsurface infiltration. Unique paving, safer lighting, and a Mission mural arts gallery that has already begun on Bartlett will attract local shoppers, tourists and neighborhood families.