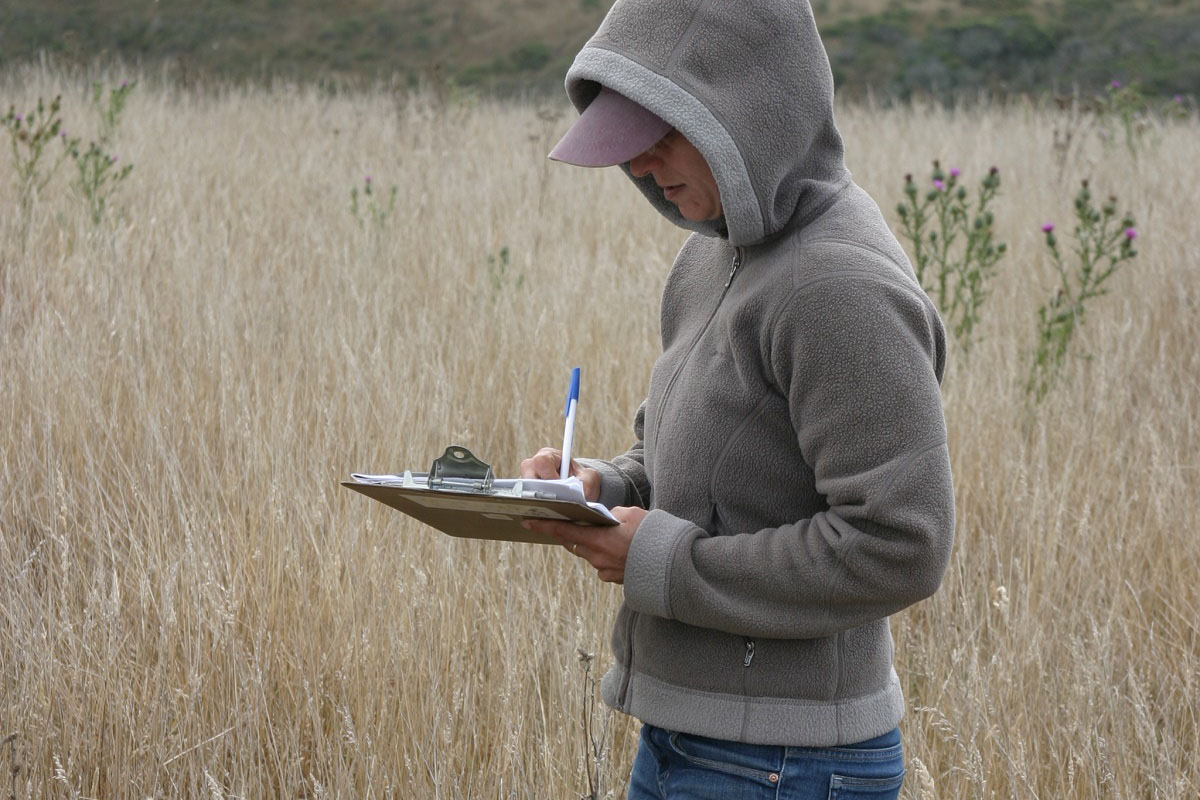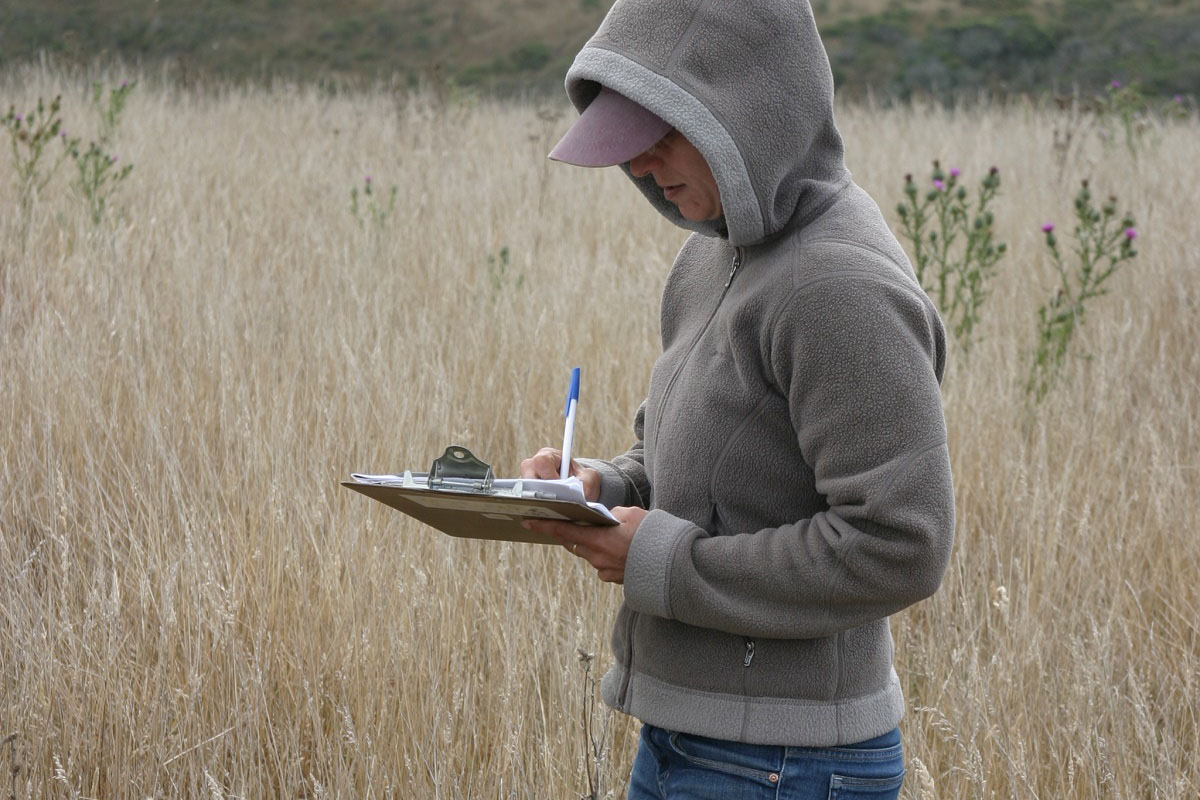 MALT staff conducts a baseline assessment to determine the composition of grassland species at a ranch.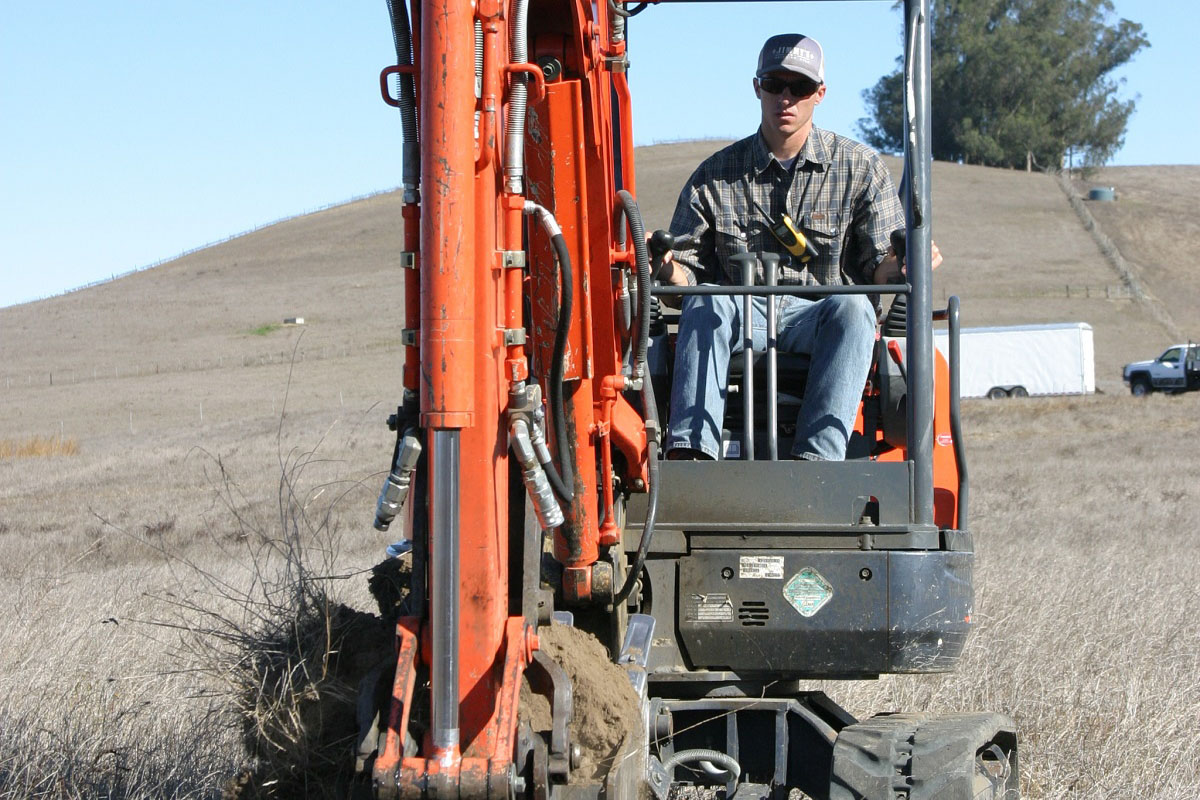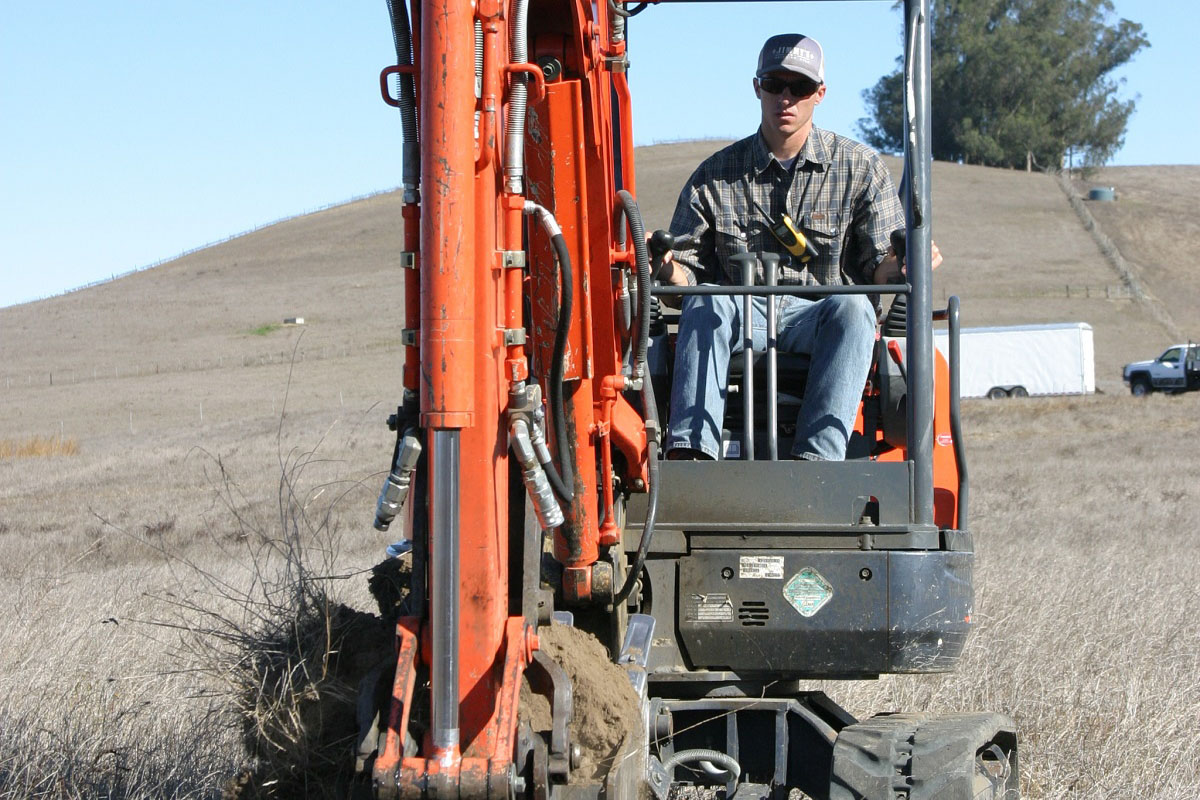 MALT staff digs a soil pit to analyze soil characteristics at different depths.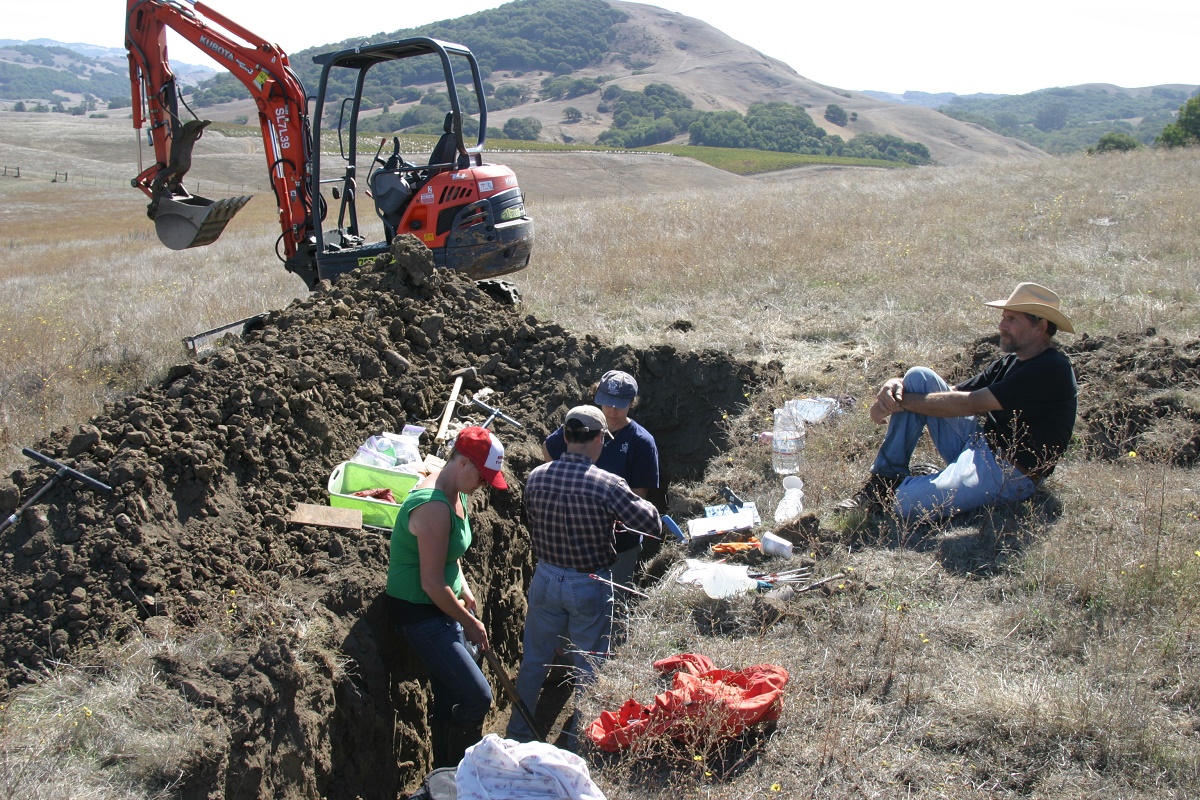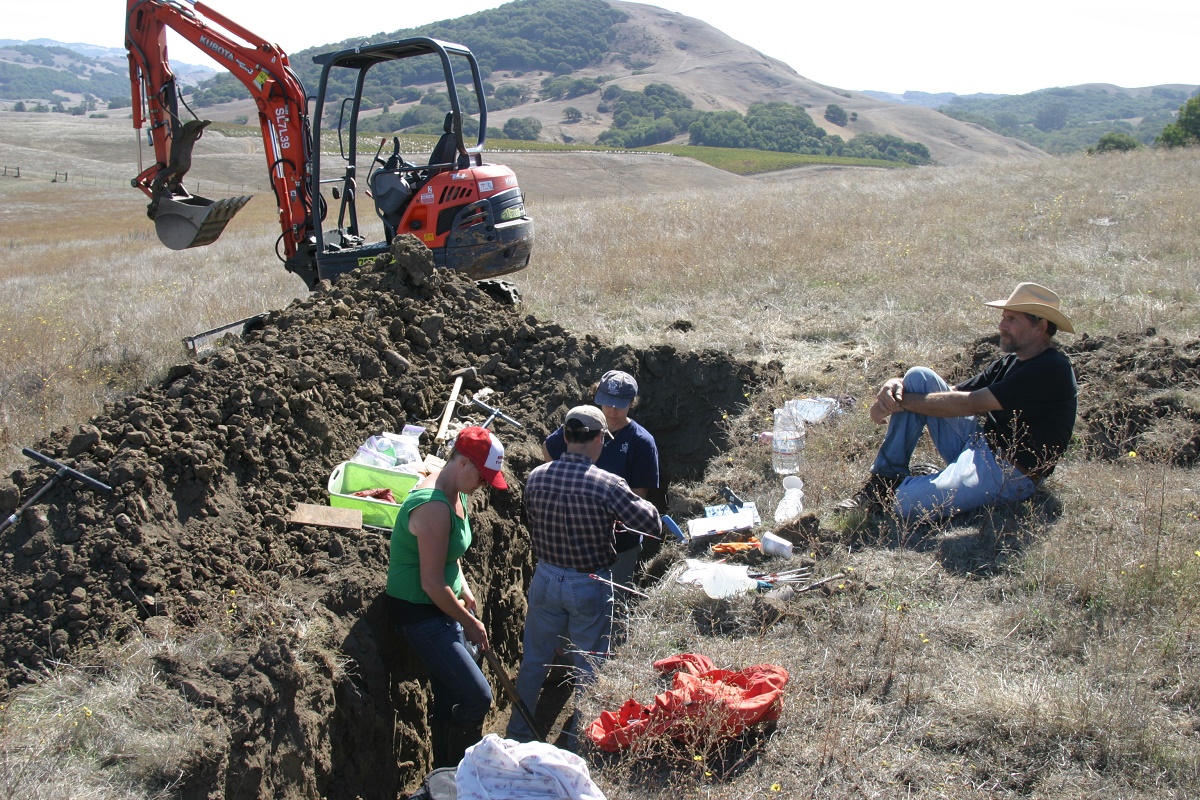 Soil scientists collect soil samples that will measure changes in organic carbon through time (carbon sequestration); soil texture and bulk density (structure and compaction); soil pH (acidity); and soil fertility (nutrient availability).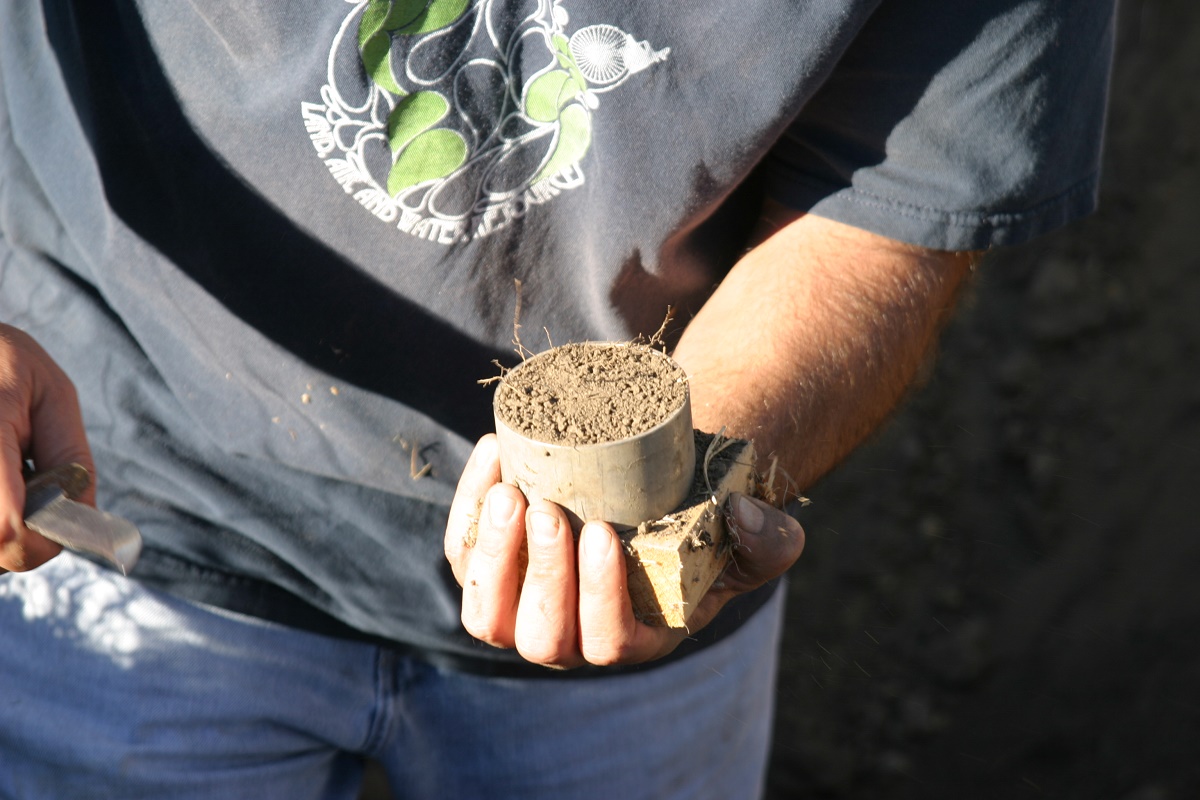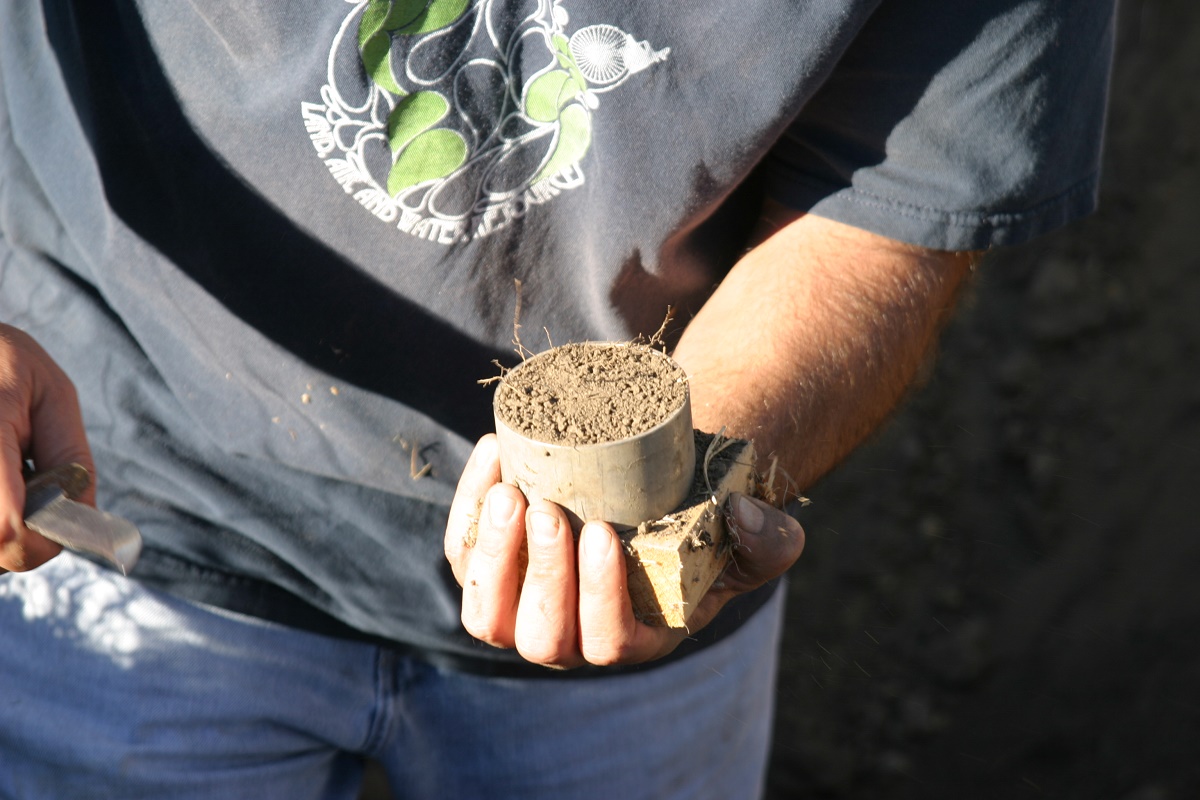 A soil scientist takes a sample which will be analyzed for bulk density, a measurement of compaction.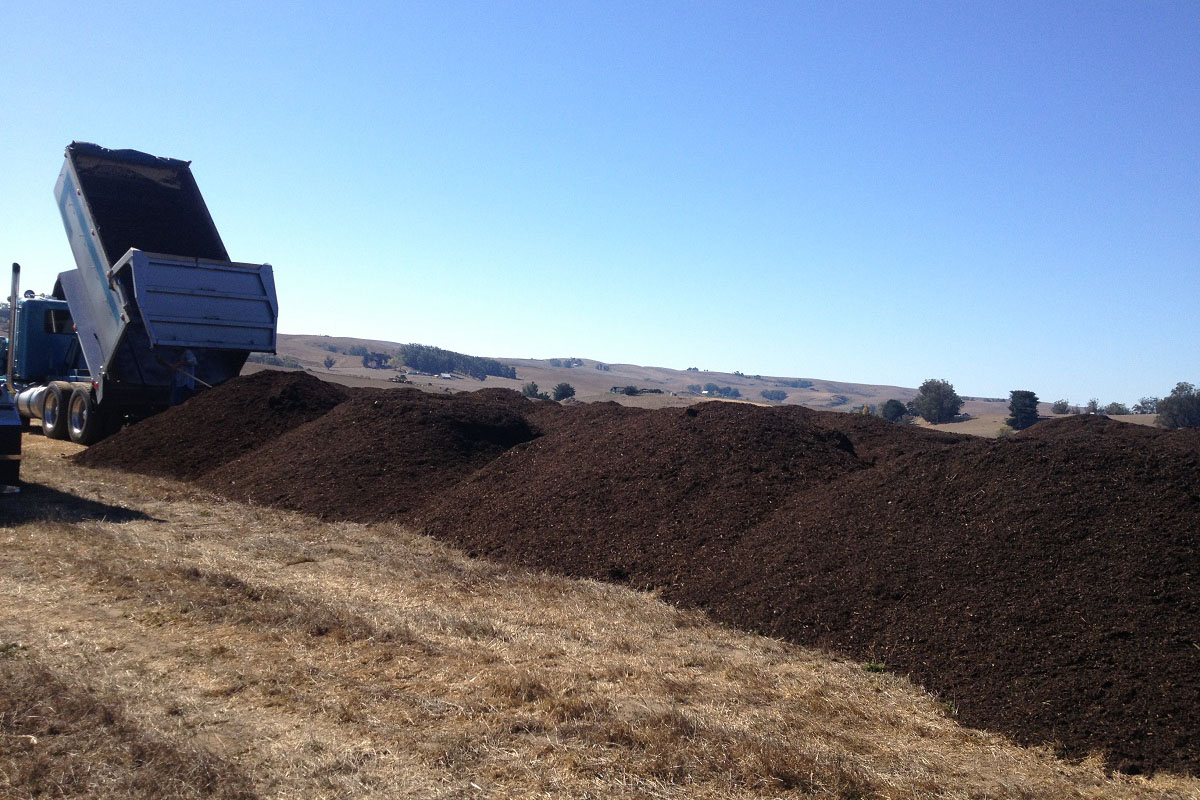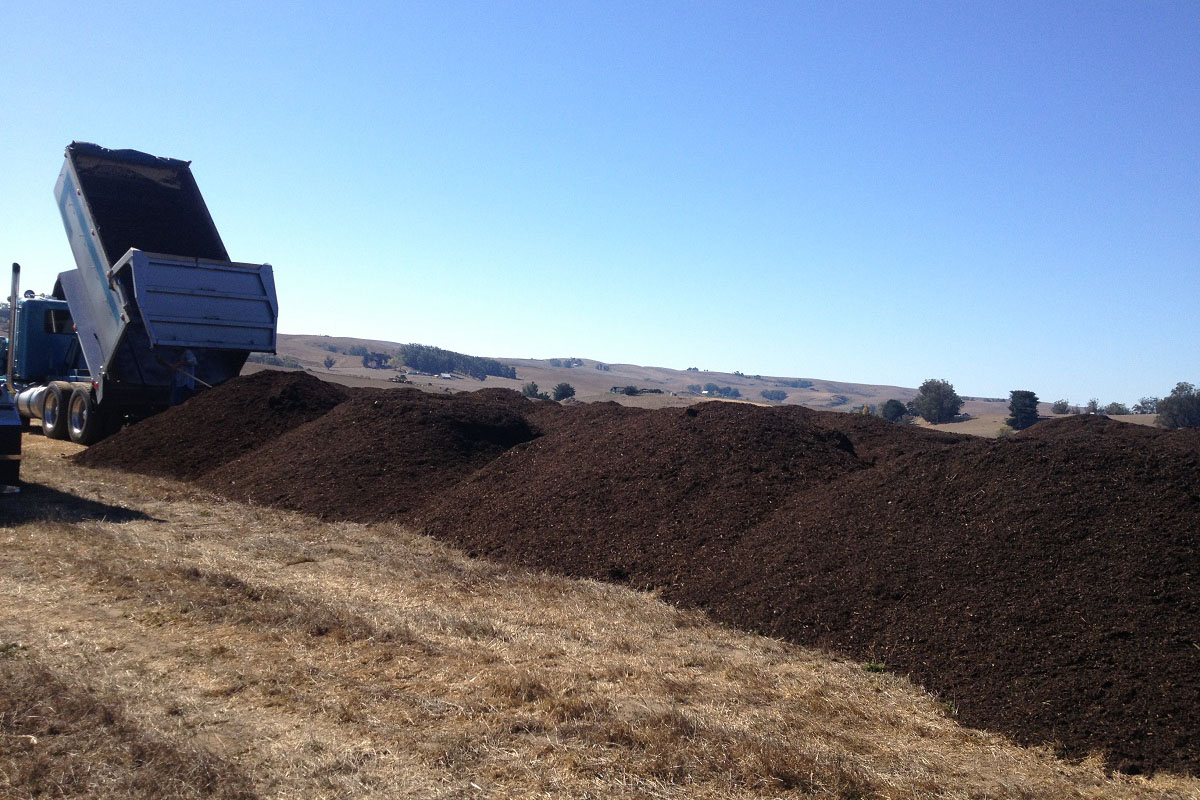 Compost is applied to a grazed rangeland at Stemple Creek Ranch.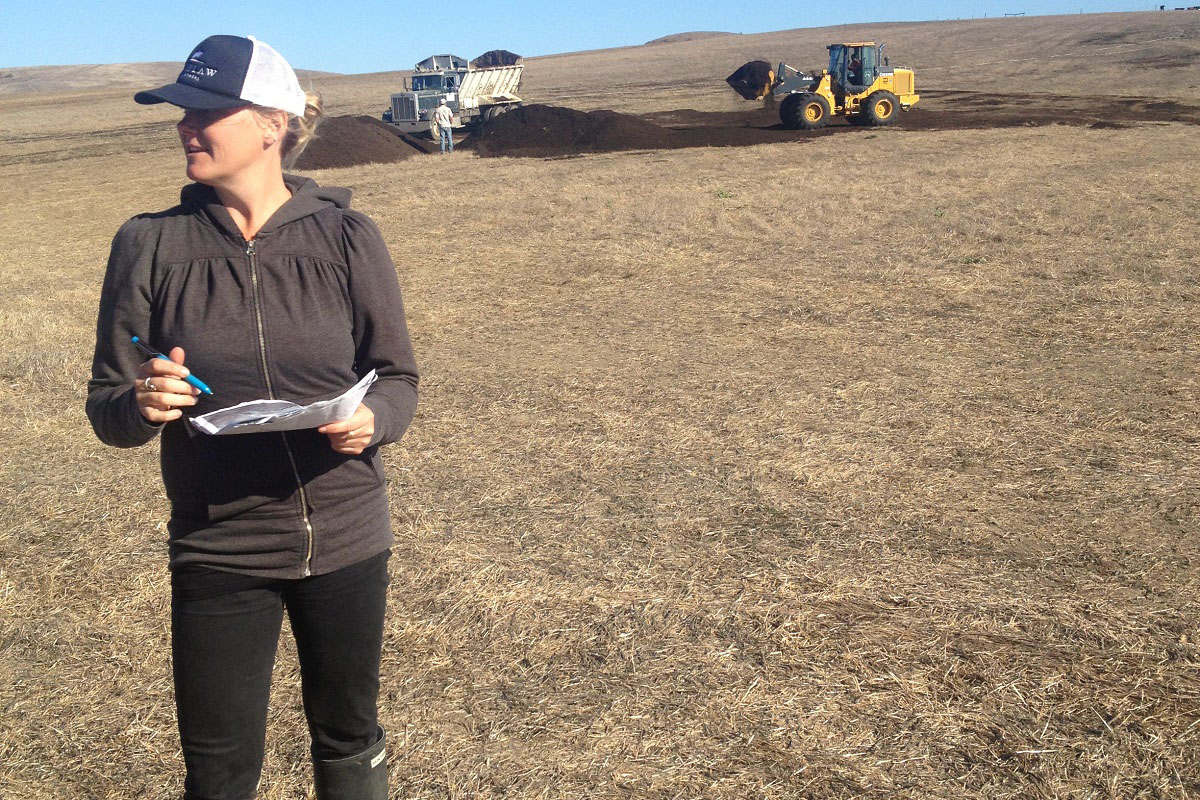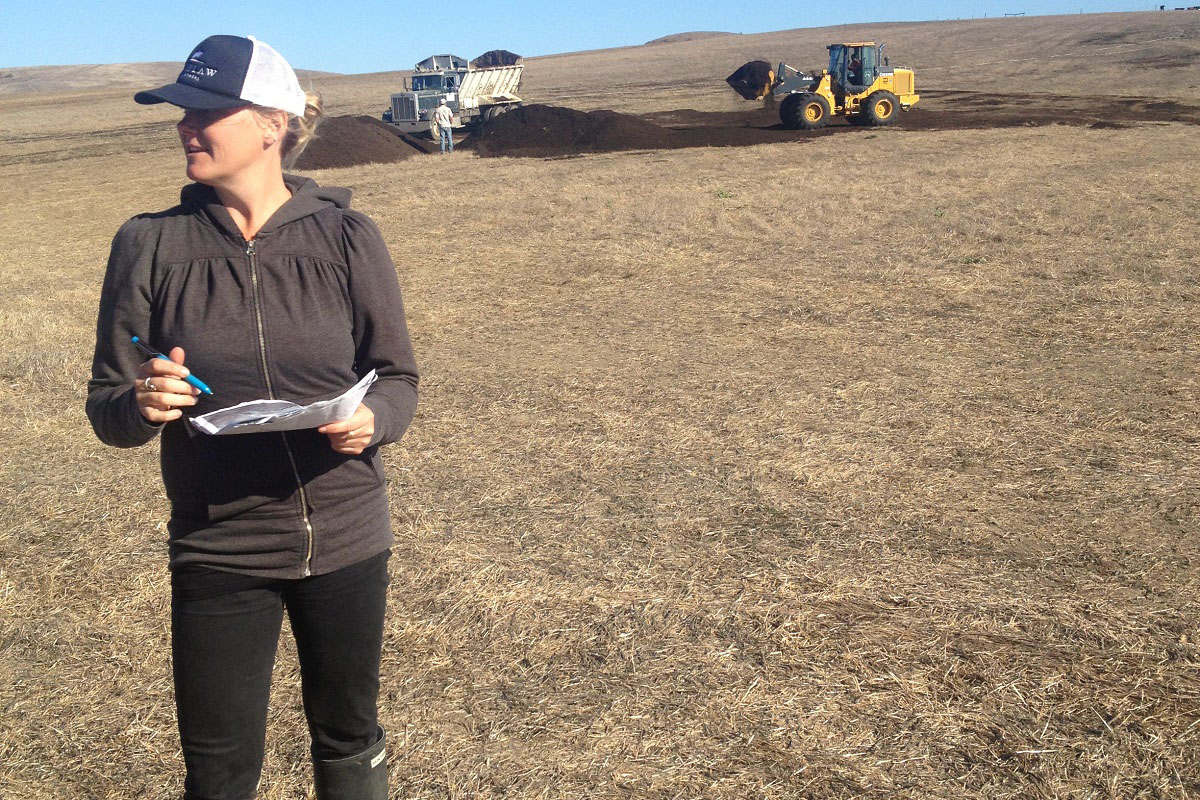 Marin RCD staff maps the location of compost application onto different pastures.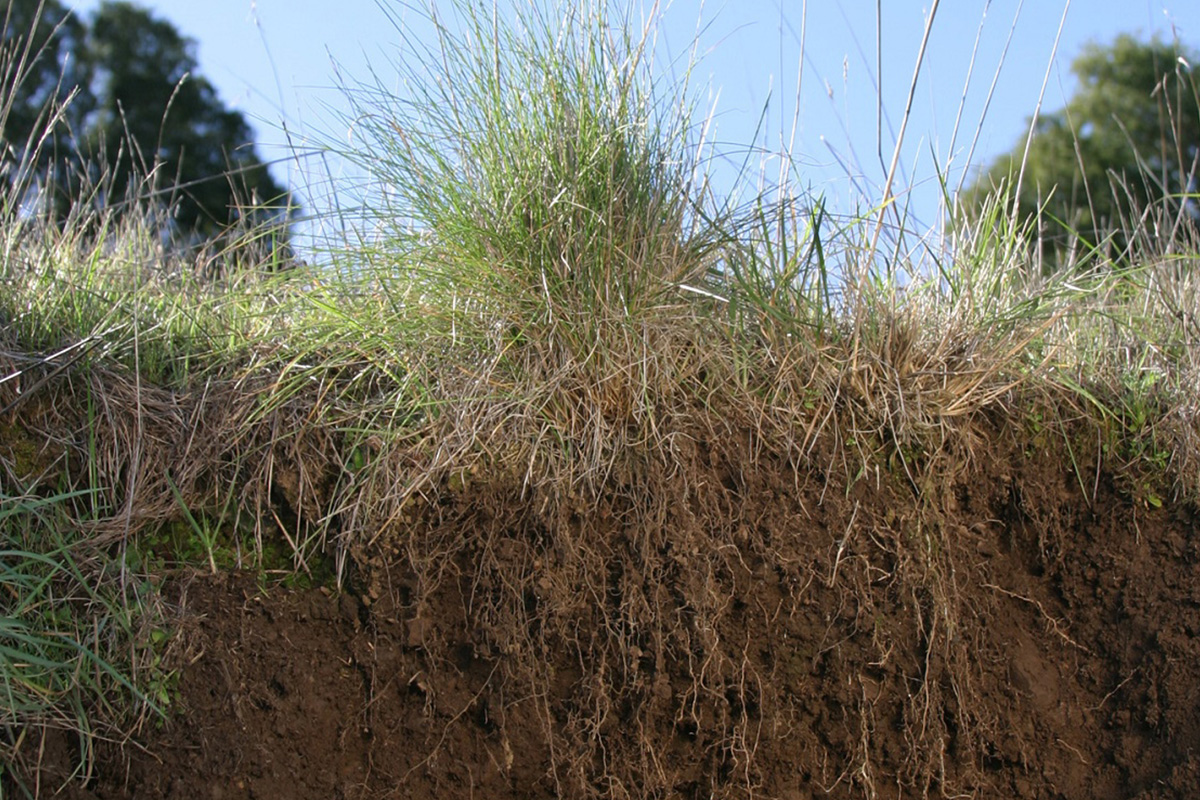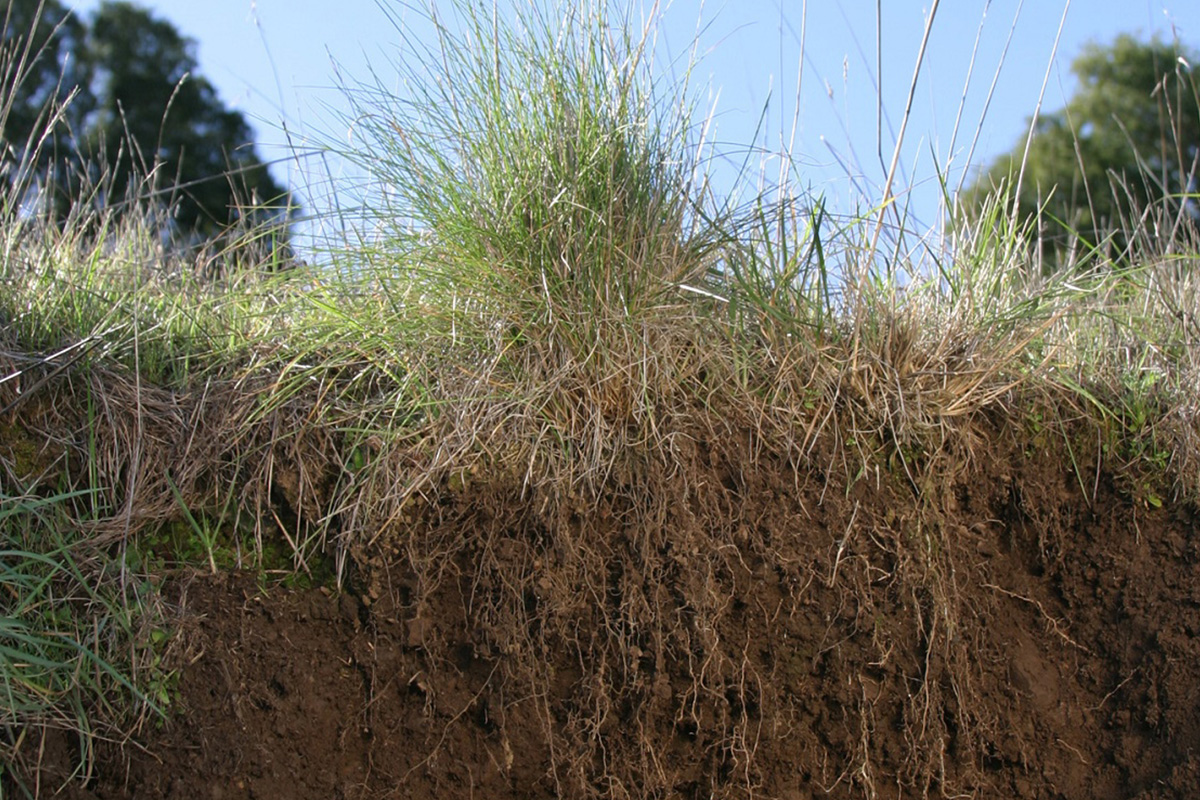 A profile of native grass and its root system.  photo credit: PRathmann


Marin Carbon Project
2019 – $20,000 Carbon Cycle Institute
2018 – $20,000 Point Reyes Carbon Farming
2017 – $20,000 Point Reyes National Seashore Carbon Farm Plan
As much as one-third of the surplus CO2 in the atmosphere driving climate change has resulted from land management practices, including agriculture. Carbon farming, a whole-farm approach to reduce greenhouse gas (GHG) emissions and promote long-term carbon sequestration in agricultural ecosystems, holds the potential to significantly reduce GHG by increasing the rate of transfer of atmospheric carbon dioxide to plant material and the soil organic carbon pool, leading to enhanced soil health and increased farm productivity.
Years of rigorous research undertaken by the Marin Carbon Project (MCP), under the leadership of UC Berkeley Professor Dr. Whendee Silver, has culminated in robust confirmation of the GHG-mitigating efficacy of organic matter amendment on rangeland soils. Dr. Silver's research demonstrated that agricultural land management practices can measurably increase rates of carbon sequestration, resulting in enhanced soil quality and soil water holding capacity and increased soil carbon and forage production (Ryals and Silver 2013).
With this research and field validation, MCP integrates carbon farm planning into the existing conservation planning program that help land managers meet their natural resource management goals while supporting productive lands, thriving streams, and on-farm wildlife habitat. The program is applicable to a diversity of land uses and enables MCP partners to identify and quantify practices to increase carbon sequestration and reduce GHG emissions on farm in a whole-farm planning context. These practices support climate change resiliency by reducing atmospheric CO2 levels, improving soil health, water holding capacity, and crop and forage production. By increasing soil water holding capacity, carbon farm practices promote water conservation, reduce overland flow and sediment and nutrient transport, reduce irrigation needs and reduce stream withdrawals, thereby enhancing water quality and instream habitat. Agroforestry practices, such as hedgerows, silvopastures and windbreaks, sequester CO2 while enhancing on-farm microclimate and wildlife and pollinator habitat.
MCP prescribes these climate-beneficial practices by completing Carbon Farm Plans for farmers. MCP partners have completed 19 CFPs across 8,000 acres for dairy and grazing operations in Marin County. The plans have been used to inform Drawdown Marin and the new (2020-2030) Marin County Climate Action Plan. Carbon farm plan data has been used to scale up and estimate agriculture's potential to meet the goal of reducing GHG emissions and enhancing carbon sequestration on the working lands of the county. An average of eight practices are prescribed in each plan which, if implemented, would collectively sequester 11,585 MTCO2e annually. Over twenty years, this is 258,237 MTCO2e sequestered. The Marin County Climate Action Plan establishes an annual target of 55,752 MT CO2e reduced or sequestered on county working lands, with a target date of 2030.
MCP has already begun the work of helping farmers with practice implementation. In partnership with farmers, public agencies and the Seed Fund, MCP has kicked off the implementation of climate-beneficial practices as prescribed in plans. These practices are improving water quality and quantity for farms and fisheries on coastal agricultural lands. Practices are collectively sequestering 136.2 MTCO2e annually (108 cars driven per year), as calculated using COMET-Planner, an on-farm GHG model developed by Colorado State University, USDA-NRCS and the Marin Carbon Project. Cumulatively, the completed carbon farm practices total: 3,088 linear feet of hedgerow; 1,315 linear feet of 2-3 row windbreak; 2 acres of silvopasture; 518 linear feet of riparian planting; 0.34 AC of critical area planting, and 23.5 acres of compost application. A total of 2,542 trees and shrubs were planted in conjunction with implementation of these plans.
The Seed Fund has supported the following MCP endeavors:
Carbon Farm Plan Development and Implementation
Soil Sampling
Assessment of carbon farming potential in the Point Reyes National Seashore
Programmatic environmental review of carbon farming practices for streamlined permitting