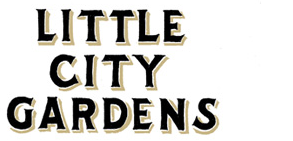 Little City Gardens
2010 – $2,500 Zoning Code Advocacy Work
Little City Gardens is an experiment in the economic viability of small-scale urban market-gardening. Located on a three quarter of an acre plot in San Francisco, they have been working steadily towards crafting a way for urban food production to sustain a farm economically and build community through innovative, collaborative local food systems. This process will allow the establishment of the 'urban farmer' as a career.
Little City Gardens is currently a small salad greens business, an educational site, and a working model of food production in San Francisco. Advocacy work done by the founders of Little City Gardens, Brooke Budner and Caitlyn Galloway, was crucial for the 2011 changes in San Francisco zoning code that now allows for and encourages urban agriculture.