The Exploratorium is a LEED-Platinum rated building and the institution is working toward energy neutrality through systems like the solar panels on Pier 15. © Exploratorium, www.exploratorium.edu
The Exploratorium's Pier 15 and 17 is centrally situated on San Francisco's Embarcadero Waterfront, with access to public transit, and a working dock for visiting ships of all types.© Exploratorium, www.exploratorium.edu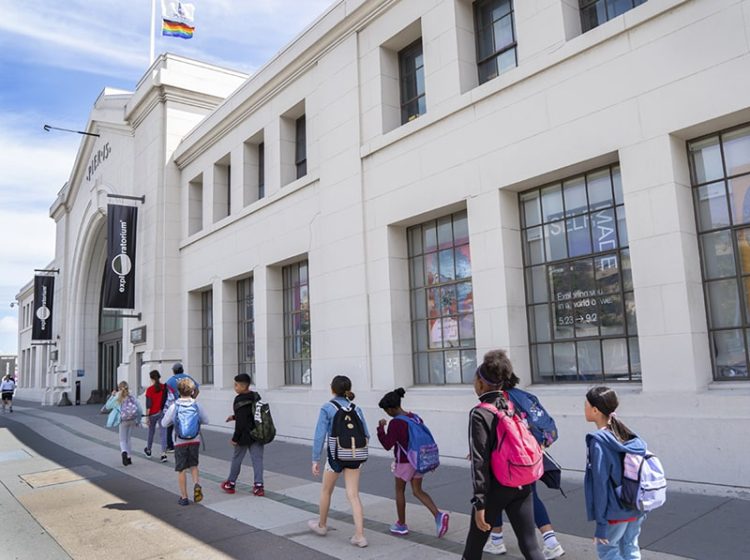 The Exploratorium welcomes over 800,000 visitors every year, from field trip students to adult After Dark audiences to curious individuals from every walk of life. © Exploratorium, www.exploratorium.edu
The Fisher Bay Observatory is home to many of the incredible environmental programs of the Exploratorium. Among its many incredible exhibits and programs, it houses the Wired Pier—an array of sensitive instruments around the Exploratorium campus that measure and record conditions in the environment—the weather, Bay water, pollution, and more © Exploratorium, www.exploratorium.edu
The entire Exploratorium is a hub of environmental programming—our working dock welcomes NOAA research ships and other vessels, our buoy gathers information year-round, and the Fisher Bay Observatory convenes the leading minds in urban resilience and sustainability. © Exploratorium, www.exploratorium.edu
The Exploratorium's Gallery 4 is dedicated to Living Systems and is one of the only informal learning institutions in the country with a working wet lab on site. © Exploratorium, www.exploratorium.edu


Exploratorium
2022 – $15,000 Urban Fellows Program
2021 – $15,000 Urban Fellows Program
2019 – $10,000 Coastal Resiliency Collaboration
2019 – $10,000 General Support
2018 – $10,000 Urban Fellowship
2017 – $10,000 Urban Fellowship
2017 – $10,000 Habitat: Bay As It Is Symposium
2016 – $5,000 Habitat: Bay As It Is Symposium
2016 – $10,000 Urban Fellowship
2015 – $10,000 Urban Fellowship
2015 – $10,000 Center for Art and Inquiry
2014 – $10,000 Urban Fellowship
2013 – $10,000 Jane Wolf, Bay Lexicon
2013 – $1,000 Living Innovation Zone
2011 – $10,000 Capital Campaign
Since 1969, the Exploratorium's museum in San Francisco has been home to a renowned collection of 650+ exhibits that draw together science, art, and human perception, and that have changed the way science is taught. Our award-winning programs inspire visitors, empower teachers through our cutting-edge teacher development program, and influence a global movement where 80% of science centers across the globe contain Exploratorium exhibits. The exhibits on the floor are designed to enable experimentation with physical phenomena while simultaneously strengthening thinking and inquiry skills. This is true not only for our audiences of over 850,000 people a year in San Francisco, but for an estimated 250 million people who experience our exhibits at science centers around the world. As founder Frank Oppenheimer saw it: "A lot of people have given up trying to comprehend things, and when they give up with the physical world they give up with the social and political world as well. If we stop trying to understand things, I think we're all sunk." The Exploratorium continues to build on his foundational belief that citizens who are curious and empowered to learn about the world are more likely to take action and tackle problems in their communities.
The Exploratorium's location on Piers 15 and 17, and in particular our investment in the Fisher Bay Observatory, has provided an unprecedented opportunity to engage the public with a wealth of data about the area's natural and built environments and dynamic access to the researchers collecting it. Since our relocation from the Palace of Fine Arts in 2013, we have been continually evolving exhibits, programs, and partnerships to engage diverse audiences in understanding the complex ecologies that emerge through the interaction between social, cultural, and natural forces and systems. The facility serves as a new model for a combined research and learning space—an open laboratory for researchers, policy makers, and the public. We are educators who have learned that as we face global climate crises, our strategy must be expansive including the contributions of scientists, educators, artists, designers, historians and cultural workers, as well as practitioners in the realms of policy and advocacy.
Due to the Covid-19 pandemic, the Exploratorium closed its doors on March 12, 2020. Our museum has always been a playground of discovery and hands-on learning, but as we remain closed, our educators, exhibit developers, scientists and other staff have gotten creative in sparking curiosity online. From helping teachers make science come alive in virtual classrooms, to engaging families all over the globe in tinkering projects, to illuminating timely science through online events like Covid Conversations and After Dark, the Exploratorium's online content highlights what the Exploratorium does best: creating learning experiences that are engaging, interactive, inspiring, and trustworthy.
The digital programming and resources reach audiences from young kids to adults, and present a full range of topics from nearly all Exploratorium departments, from biology, to the environment, to Cinema Arts. In all, our digital resources are being used more than ever: traffic to our website, which serves 2M people annually, is up by nearly 300%. The Exploratorium is proud to continue sparking curiosity wherever people are, whether the kitchen table laboratory, the virtual classroom, the outdoors, or—eventually—back at Pier 15
Urban Fellowship
The Exploratorium's new Urban Fellow program will address issues related to climate change and rising sea levels. This program situates an artist or urban practitioner in a residency within the Bay Observatory to explore the human relationship to the urban environment. Fellows could explore concrete forms: such as architecture and infrastructure: as well as human forms: such as approaches to planning or individual practices within the city. This investigation is both important and timely as urban areas globally explore the issue of climate change and coastal resiliency.
Jane Wolf, Bay Lexicon
Bay Lexicon is an illustrated field guide to San Francisco's shoreline. Using methods and tools from landscape scholarship, design, and science education, Bay Lexicon aims to encourage observation and enquiry about the natural world and its relation to culture.
Living Innovation Zone
The LIZ project is a place making project, which encourages people to engage with their environment and each other in new and surprising ways. The Exploratorium relies on this kind of open-ended inquiry as a means of engaging people and encouraging them to learn about themselves and the world around them.
Capital Campaign
It is the Exploratorium's goal to be the world's first net zero energy, carbon neutral museum. Their LEED Platinum certification sets the stage as they continue to work on their sustainability goals. The new location on San Francisco's waterfront showcases a premiere "green" building, operating with maximum energy efficiency and preservation of the atmosphere.