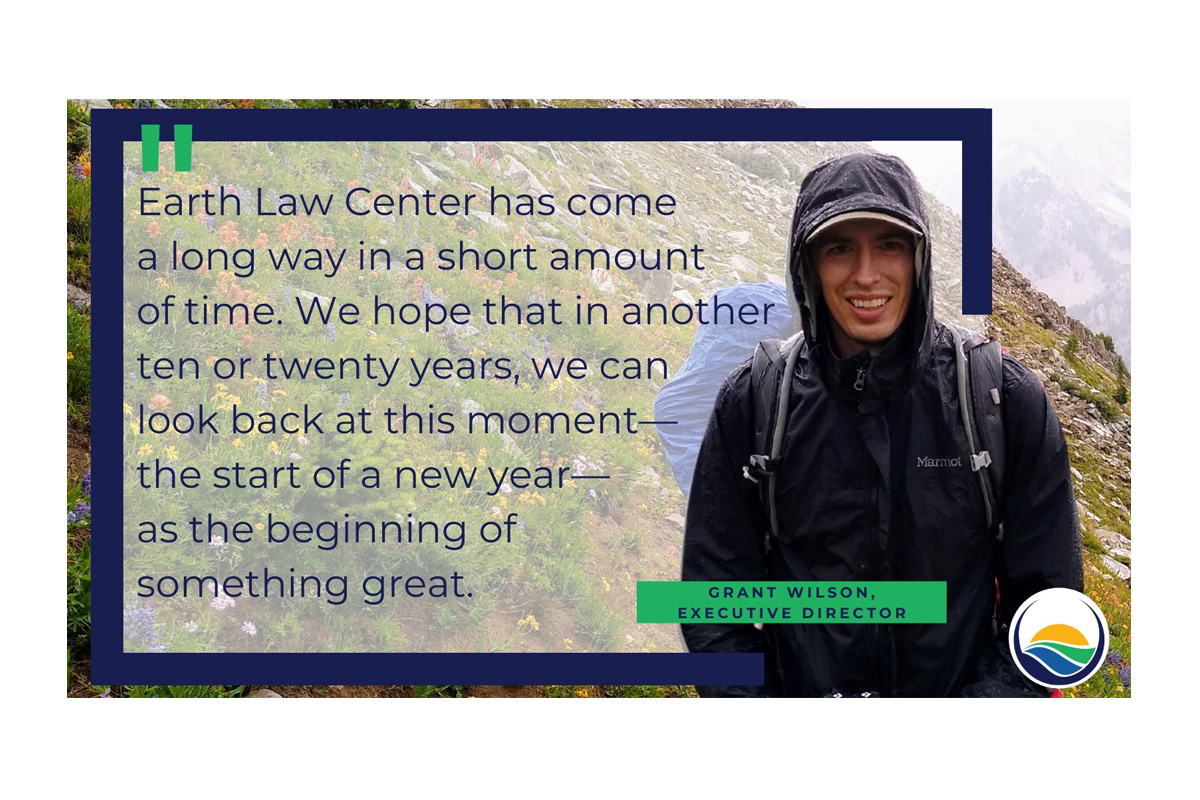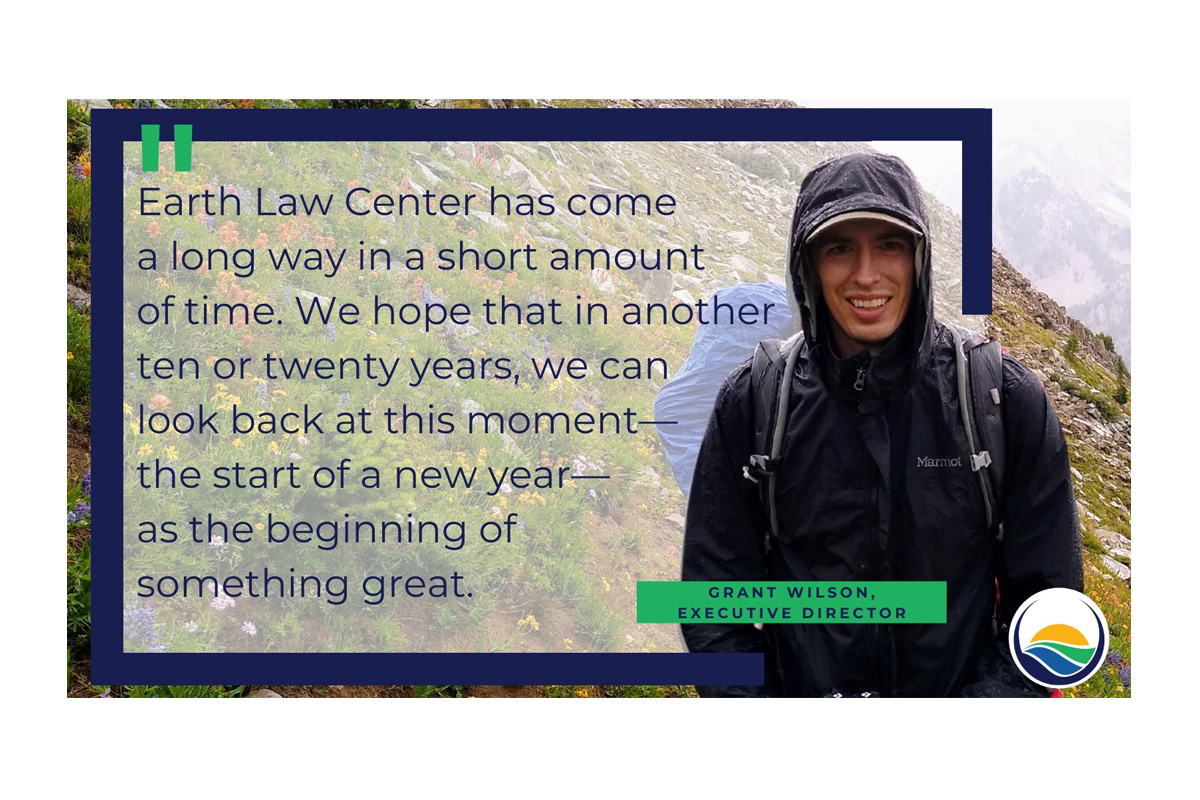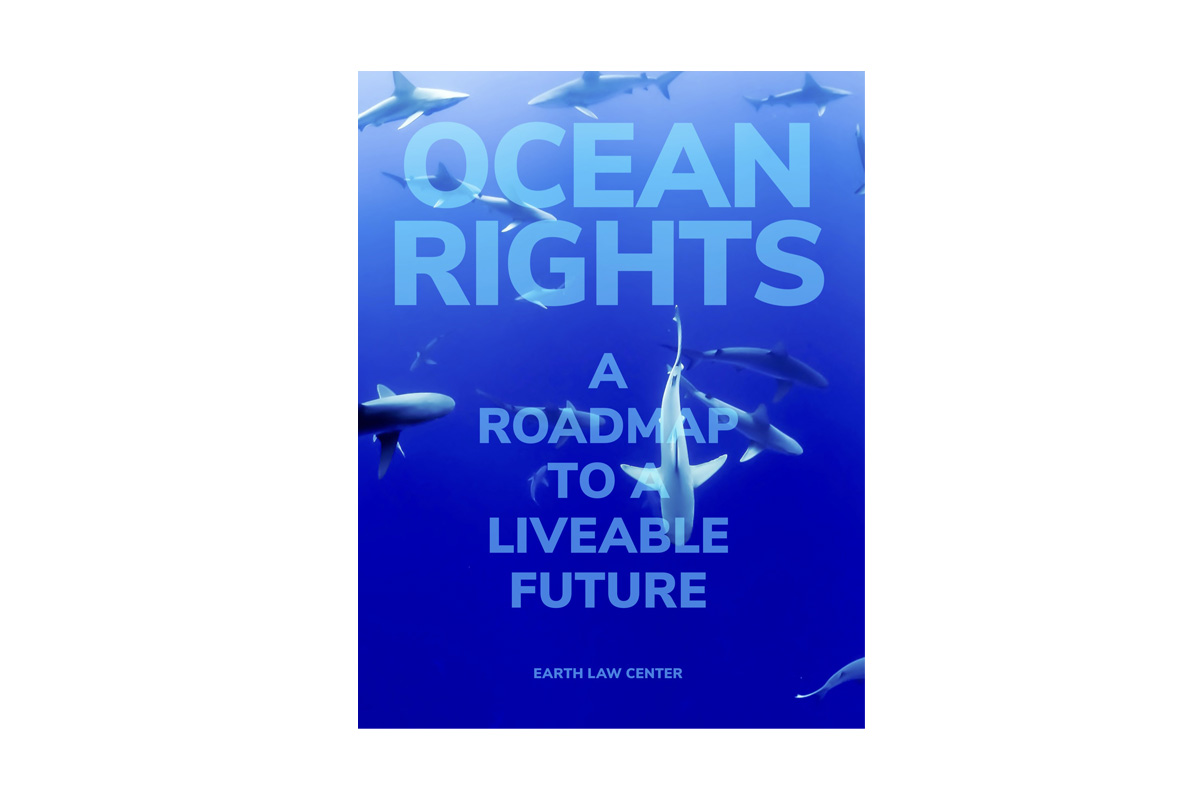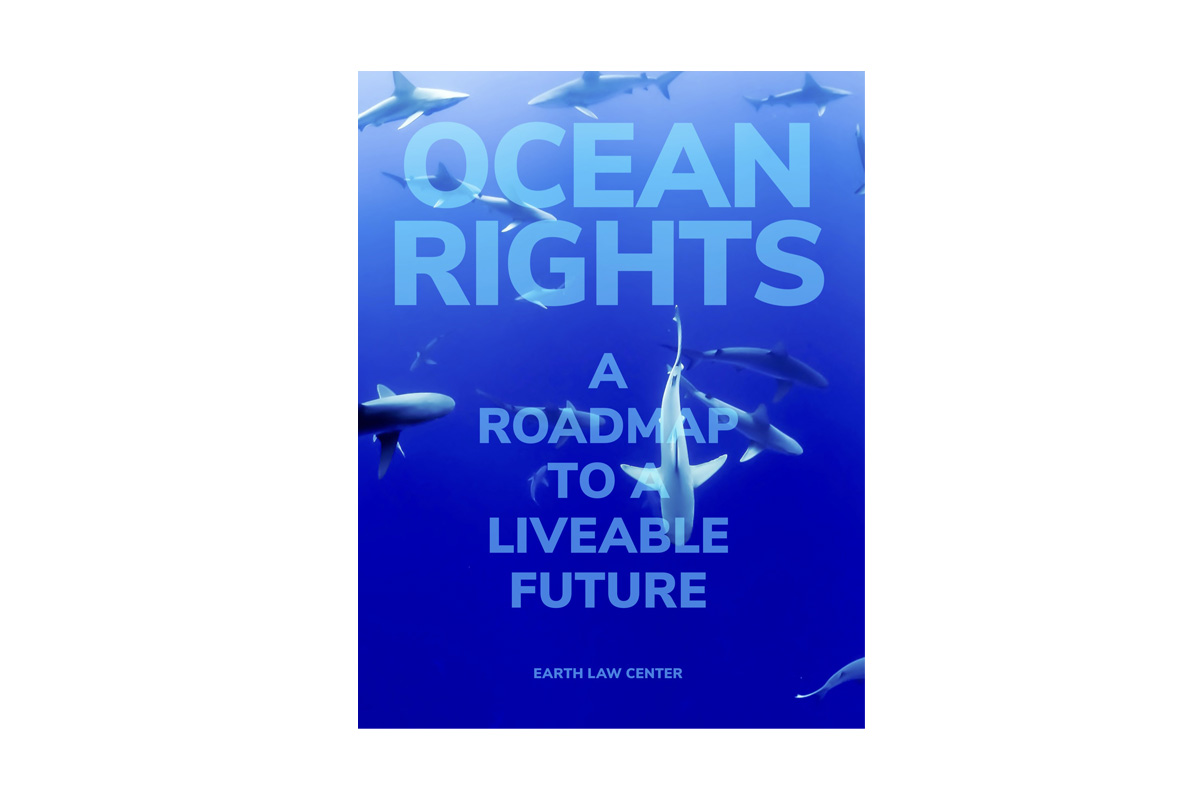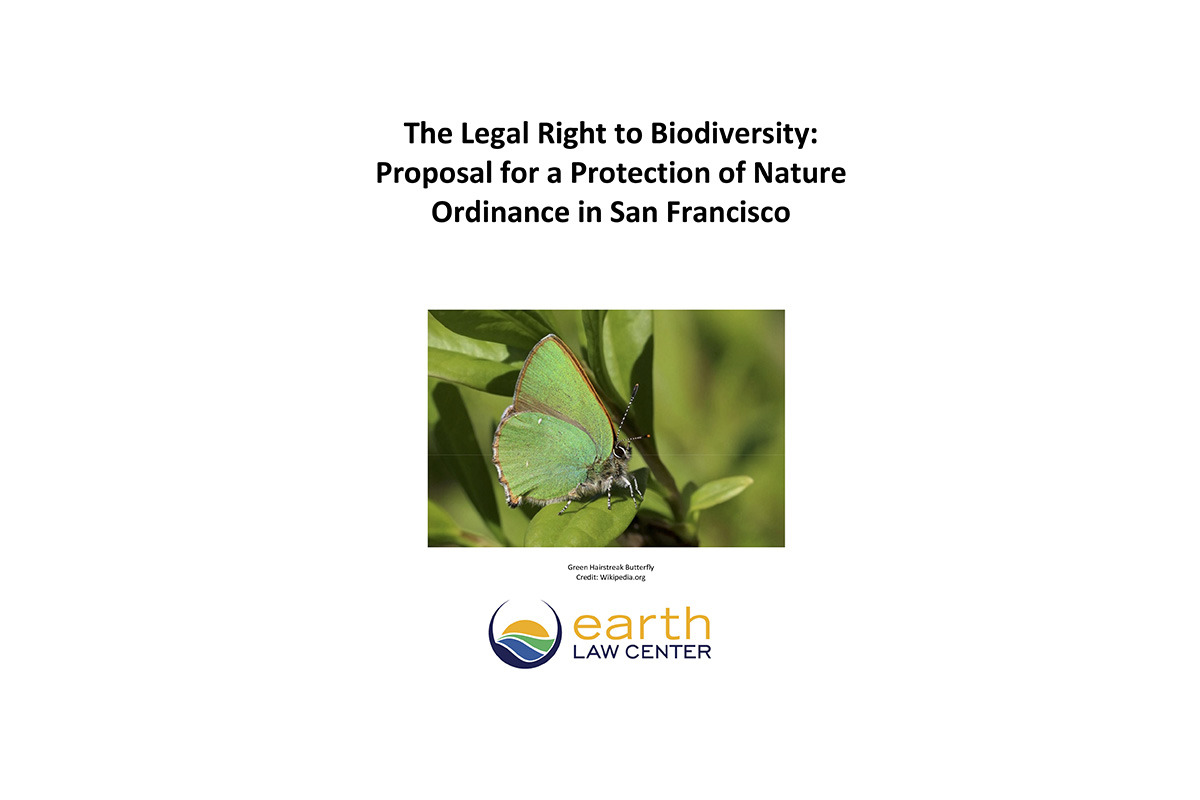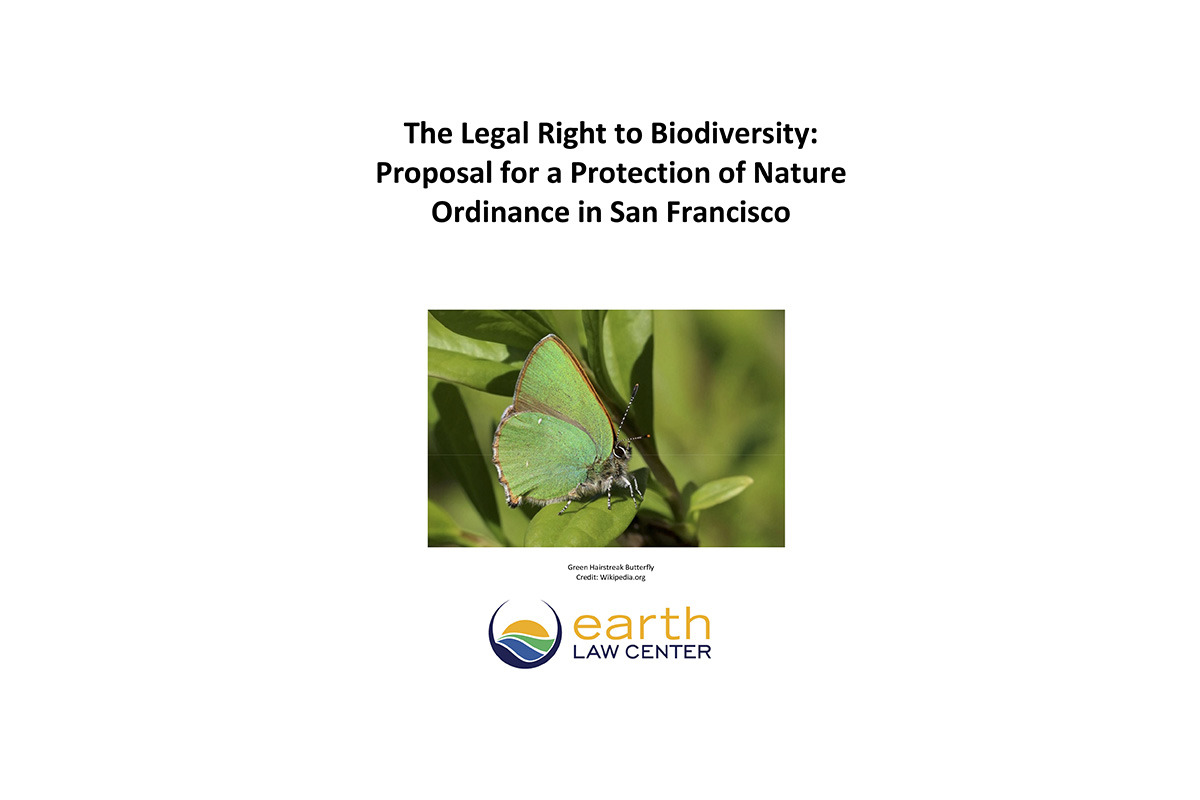 Earth Law Center
2019 – $10,000 General Support
2017 – $10,000 Biodiversity Rights Ordinance
Mission: Earth Law Center (ELC) works to pass a new generation of Earth-centered laws in the United States and worldwide, including by seeking legal rights for Nature. California and the San Francisco Bay Area has long been a focal point of our work.
Introduction to Earth Law: Traditional environmental law has failed. Despite the passage of thousands of environmental laws and policies in the U.S. and globally, Nature's health continues to decline. We must awaken from the misguided belief that exploiting and destroying Nature leads to prosperity. Earth law, or ecocentric law, is an effort to remake the legal system in ways that promote a better balance between human needs and the needs of those ecosystems that we inhabit.
Goal: ELC's long-term goal is to build a system of law that aligns human activities with biological constraints on a livable, thriving planet. In the U.S., our strategy to this end is to empower local movements and help them pursue regulatory and legal changes that are more protective of Nature.
Strategy: ELC works throughout the USA and globally using the following strategies::
1. Write model laws that are "ecocentric"—i.e., ecosystem well-being is the primary concern;
2. Work to put ecocentric laws into practice in order to restore ecosystems to health; and
3. Train the next generation of legal professionals to help save the planet; and
Grassroots Campaigns: Much of ELC's work operates at the local level. ELC provides pro bono legal support to communities wishing to apply new, cutting-edge legal frameworks that are more protective of Nature. With legal movements growing to give legal rights to Nature and recognize the human right to a healthy environment, amongst others, communities and governments need help drafting strong new laws. Not only does ELC draft these laws, but we also teach other lawyers to do similar work.
History: After being founded in Florida in 2009, ELC spent its formative years operating out of the San Francisco Bay Area, where it hired its first Executive Director and co-founded the Bay Area Rights of Nature Alliance. Since then, ELC has engaged in law and policy campaigns throughout the Bay Area and California, protecting rivers under the Clean Water Act, advancing new "Earth-centered" laws and policies, and building a movement of legal professionals who work to transform the legal system to better protect Nature. Over the years, ELC has also established a national and global presence with team members in Washington State, New York, and Mexico City, amongst other places.
Seed Fund Projects: ELC is a proud recipient of two grants from Seed Fund advancing our work. The first project involved advancing the Rights of Nature in San Francisco with an emphasis on Nature's inherent right to thriving biodiversity. The second project involved new policies that promote native, low water usage, drought-resistant tree species in San Francisco. For both projects, ELC wrote in-depth policy reports, met with a broad range of stakeholders and governmental officials, and submitted formal proposals for new laws/policies that are under consideration in 2021. Through this work, we hope to create a blueprint for a future in which humans and Nature thrive together in harmony in the San Francisco Bay Area. We also hope that new laws will not only protect Nature, but also restore it to health.
Other Recent Wins: In addition to our work with Seed Fund, here are some of ELC's wins from the last year or so:
ELC won a major Clean Water Act lawsuit against the State of California, helping to ensure that river pollution is fully addressed by state agencies.
ELC assisted the Nez Perce tribe to write a declaration establishing the rights of the Snake River (Idaho), including its right to flow, based on Native American rights.
ELC successfully secured the promotion of the Rights of Nature within the Convention on Biological Diversity, which was unprecedented for an environmental treaty.
ELC submitted 8 amicus briefs on the Rights of Nature and human environmental rights in Latin America over the last year. Some have resulted in victories, including a ruling in Oaxaca, Mexico, to restore the health of two rivers, the Atoyac and Salado.
ELC assisted the State of Colima in Mexico to pass a groundbreaking state constitutional amendment recognizing the Rights of Nature.
ELC released a law school coursebook entitled "Earth Law: Emerging Ecocentric Law" with Wolters Kluwer as the publisher (September 2020). Numerous law schools and university programs will teach from the book beginning Spring 2021.
ELC drafted a Declaration on the Rights of the Southern Resident Orcas that received 15 organizational endorsements and support from several Washington State legislators.
ELC secured a proclamation by the El Salvadoran Legislative Assembly recognizing that "forests are living entities" with human duties to care for, preserve, and respect forests.
ELC is co-hosting a summit with the federal government of Nigeria to explore a new national law on the rights of rivers, which would be unprecedented in Africa.
ELC earned 35+ media mentions in the last year, including in the Guardian, the Chicago Tribune, NBC News, and numerous environmental magazines.
Learn More: Visit www.earthlawcenter.org. You can also sign up for our newsletter or follow us on Facebook, LinkedIn, and Twitter.
YouTube Videos About Our Work:
General https://www.youtube.com/watch?v=lubNvaTigAU
Ocean Rights https://www.youtube.com/watch?v=LH31biWQgt0
River Rights https://www.youtube.com/watch?v=I2p7EfOKaFA