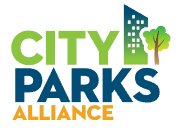 City Parks Alliance
2015 – $8,000 International Urban Parks Conference
Established in fall 2000, City Parks Alliance is the only national membership organization devoted to urban parks. The Alliance unites hundreds of community leaders, parks and recreation authorities, government agencies and others committed to the sustainability, creation and revitalization of parks and green spaces in urban communities. City Parks Alliance believes urban parks are an under-utilized tool in combatting climate change and seeks to educate its members on the public park's role in the the social, economic and physical well-being of urban residents.
International Urban Parks Conference
City Parks Alliance presented the Greater & Greener International Urban Parks Conference in San Francisco during April 2015. The conference works to strengthen the park and open space communities by educating international participants from over 200 cities on systems and models that advance the connection between urban parks and climate change resiliency planning. Throughout the conference there will be over 75 workshops, presentations and tours pertaining to innovative spaces and "green proofing" strategies increasingly used in city parks around the world.