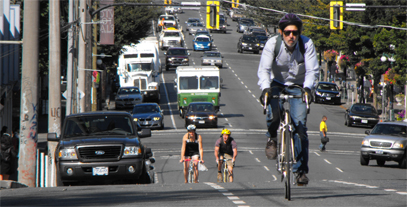 Alliance for Biking and Walking
2013 – $8,000 Open Streets
2011 – $5,000 General Support
The Alliance for Biking & Walking creates, strengthens, and unites state and local bicycle and pedestrian advocacy organizations in every state, province, and major city in North America. These sustainable organizations are highly respected by the public, media, and policy makers. Their efforts in communities and their united strength at the national level have transformed cities into places where it is easy, safe, desirable and common for citizens to bike and walk.
Open Streets
Open Streets develops a curriculum for a comprehensive three-day open streets training for cities interested in starting or growing initiatives. Open streets (commonly called Ciclovías, Saturday Parkways, Sunday Streets, etc.) differentiate themselves from block parties and street fairs by promoting active living, healthy lifestyle choices and connecting neighborhoods. They are typically part of a broader effort to encourage sustained physical activity, redefine public spaces and increase healthy transportation options. By opening the streets to people, residents view and connect with the community in a whole new way. An exercise in community building and social engagement, open streets also provide free recreational opportunities and public space where people can meet, socialize and make new friends.